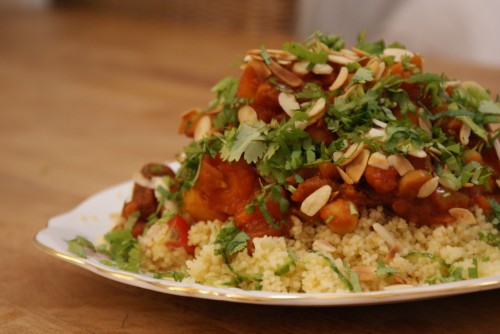 This recipe is adapted from Nigella's Feast, my favourite book after How to be a Domestic Goddess and is a perfect way to cook all the wonderfully sweet winter root vegetables that are about now, the spicy stew goes perfectly with the starchy sweetness of the veggies. I added chickpeas because I love them and they add a bit more oomph, but you could easily subsitute 250g red lentils instead for a thicker stew. Either way this is warming winter food at its best, as usual make lots and eat leftovers the next day or freeze for a treat at a later date.
Toasted almonds and chopped coriander go perfectly, but pine nuts are delicious too as is parsley and I'm guessing pomegranate seeds would be great as well as pretty. Serve in a large bowl, pile the stew onto a big mound of couscous and sprinkle the flaked almonds and coriander on top. A dollop of yoghurt is a must.
Ingredients
serves 4
2 onions
2 carrots
3 cloves garlic
1 small red chilli
600g assorted root vegetables (carrot, swede, parsnip, pumpkin, squash, celeriac)
1 tsp turmeric
1 tsp ground ginger
1 tsp bouillon 9vegetable stock powder.
150g dried apricots, chopped
2 cans chopped tomatoes
2 cans chickpeas, drained
To serve:
200g couscous
½ lemon
3tbsp olive oil
1tsp salt
plenty of yoghurt
50g flaked almonds or pine nuts, toasted
1 small bunch (about 30g) chopped coriander or parsley
Heat a generous glug of oil in a large frying pan.
Peel the onions, garlic and carrots, chop roughly and blend in food processor with the chilli to a fine mush. Tip into the pan and fry gently.
Chop your remaining root vegetable selection roughly and add to the pan as you go along, giving it a quick stir now and then. Sprinkle over the spices and stir to coat the softened vegetables.
Now add the chickpeas and chopped tomatoes along with an extra canful of water.
Bring to the boil and leave to simmer for about 45mins.
Whilst the stew is cooking, boil the kettle and pour the couscous into a large bowl, sprinkle over the salt and give it a quick stir. Pour over 200ml boiling water, cover with a plate and leave to stand for 5mins. Once the couscous has absorbed all the water, fluff it up with a fork, squeeze over the lemon juice, pour in the oil and stir well.
Tags: carrot, couscous, parsnip, swede
YOU MIGHT ALSO LIKE...