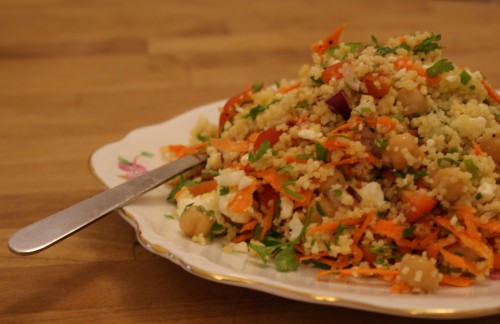 I went camping this weekend, no ordinary camping, to a tipi! Camping trips always conjure up thoughts of lovely local shops selling lovely local food and cosy pubs with lovely warm fires. In reality, depending where you are, it can be hard to find a good pub and even harder to find one with good food. So, as we arrived late on Friday and wanted to make the most of our tipi, I planned ahead. Out came some sausages from the freezer, some homemade bread, leftover haloumi and… busy trying to use as much things from the fridge that were on the turn as possible, I decided on couscous, the perfect snack for the journey.
In reality of course, the campsite was brilliant (another winner from The Cool Camping Guide), with a delightful cafe on site, selling delicious breakfast and several pubs all within walking distant selling grat pub food, mostly mussels, which were literally caught over the road. Still… being the country, by the time we arrived on Friday, nowhere was selling food so I glad of my pack lunch (and the bottle of wine I thought to pack).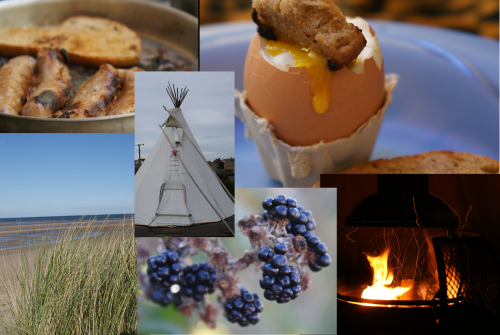 I love couscous, its such a pleasing vehicle for so many things – roasted carrots, smoked mackerel and brocolli. I like it fresh and zingy as below with feta, parsley and lots of lemon juice, or with roasted vegetables and flaked almonds. The recipe below is obviously just a starting point, use whatever you have handy – peppers always nice, as are olives, anything you'd put into a salad really… Hummus is another great partner, or some leaves packed into the top of the box so they don't get soggy.
Serves 2
150g couscous
225ml hot vegetable stock
1/2 can chickpeas
200g cherry tomatoes, halved
1/4 cucumber, cut in half, the middle scooped out and sliced
100g feta, crumbled
1 medium carrot, grated
bunch parsley(and some mint too if you have it), chopped
juice 1/2 lemon
3tbsp olive oil
1/2 red onion, diced
1 small clove garlic, finely chopped
1 small handful toasted sunflower seeds or pine nuts
This is really just an assembly job…
wiegh the couscous out in a large bowl, pour over the hot stock, cover a with a large plate and leave to steep for about 5mins.
Once all the stock has been absorbed, fluff up using a fork. Pile all the ingredients into the bowl and mix thoroughly.
Squeeze the lemon juice over and pour in the olive. Mix really well and taste, it'll probably need some salt and pepper.
YOU MIGHT ALSO LIKE...