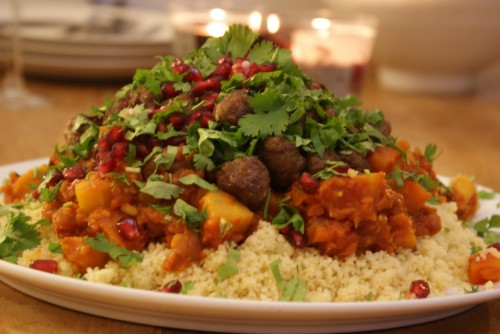 Nigella
comes up trumps again, although I have to say this is from her book rather than the TV show. It seems everyone is quick to criticise anything she does on TV, and while she does verge on the ridiculous much of the time, I think her genuine greed and love of food is really very endearing.
You also cannot escape the fact that she cooks delicious food, every single recipe book is crammed with recipes, all delicous and generally all guaranteed to work. So this is a recipe from Feast
(possibly one of my favourites in terms of abundance of recipes, beautiful pictures and a good range of food).
The dinky lamb meatballs are served with the root vegetable stew that I've made many times before and eat happily with some couscous alone. We decided to go the whole hog this time and make the meatballs complete with all of Nigella's suggested adornings, namely pomegranate seeds and coriander.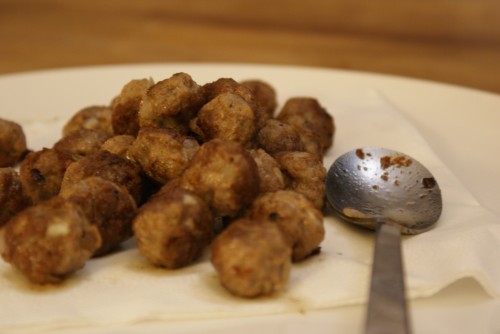 I piled the couscous and stew high on a plate, with meatballs atop and the pomegranate seeds and coriander sprinkled over. Definitely a dish for bringing forth whilst entertaining. I know some people are not convinced by pomegranate, my dining partner included, but I think they work perfectly as not only a beautiful jewel pink topping that goes particularly well with the vibrantly green coriander, but also as a sweetly sharp contrast in many savoury dishes like this one and this one.
The lamb meatballs were of course delicious, I'm a big fan of using meat like this, i.e. making them into little meatballs and serving with a hearty vegetable stew so that it's healthier but also goes farther. They are also perfect stuffed into a pitta with hummus and salad
Ingredients (adapted from Feast)
500g minced lamb
½ onion, pureed or chopped very finely
½tsp ground cinnamon
1 tsp ground coriander
1 tsp salt
3tbsp breadcrumbs
1 egg, beaten
Mix the onions into the lamb.
Sprinkle over the spices and breadcrumbs and mix well.
Stir in the beaten egg, cover and leave for 30mins to allow the flavours to meld.
Using about ½tsp mince, roll into small balls and drop into a hot pan.
Continue rolling, dropping and cooking, shaking the pan every so often, you want to cook the meatballs for about 5mins until golden on all sides and cooked through (this will depend on how big your balls are).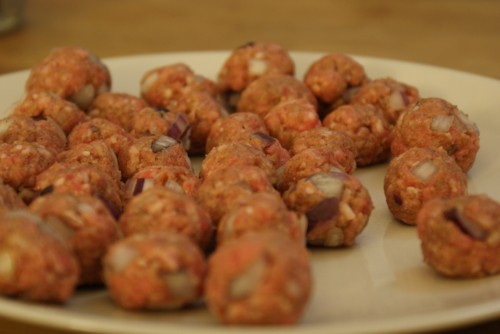 Tags: lamb, parsnip, pomegranate, yoghurt
YOU MIGHT ALSO LIKE...