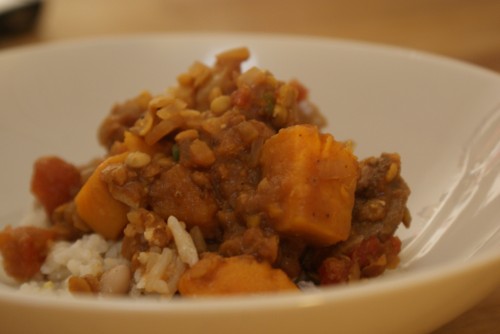 The picture doesn't really do this justice, it was the inaugural outing of our slow cooker and it did us proud! Amazing tender lamb in a rich sauce of lentils and sweet potato served alongside rice and peas.
I just browned the meat and chucked it into the slow cooker with the rest of the ingredients and left it to do its magic overnight, how easy is that? Now I'm planning all manner of slow cooked warming winter treats. Being a bit of a cheapskate and also trying to eat a bit more healthily, I bulked the meat out a lot with sweet potato and lentils. I definitely think adding as much veg as possible and maybe some beans or lentils is the way forward.
What follows is a recipe for cooking it on the hob. As with all curries this improves with age, be very caeful with the ctoch bonnet as it is violently hot. The idea of adding it to the dish whole is to get all the flavour with only a little heat. Be careful though, once the pepper 'bust', the curry will get VERY hot!
Ingredients
Serves 4
600g trimmed shoulder of lamb, cut into chunks
sunflower oil
1 chilli, finely chopped
1 onion, finely chopped
3 cloves garlic, sliced
3 bay leaves
1 cinnamon stick
1 tsp curry powder
1 tsp ground allspice
½ tsp ground nutmeg
3tbsp malt vinegar
2 sweet potatoes, pelled and cut into chunks
100g red lentils
1 scotch bonnet chilli
1 can chopped tomatoes
1 tbsp dark brown sugar
Heat a large casserole and add 2tbsp oil, fry the lamb in batches until browned on all sides and remove.
Add a little more oil to the pan and cook the onions until brown and caramelised, add the garlic, chilli, bay leaves, cinnamon and spices and stir well. Splash in the vinegar and scrape the bottom to lift off the sediment.
Return the lamb to the pot with the sweet potato and lentils and stir to coat in the spicy sauce.
Add the chopped tomatoes, fill the empty can with water and add that too along with the scotch bonnet.
Cover the casserole with a lid and cook in the oven at 170C until meltingly tender.
Tags: lamb, lentil, rice, sweet potato
YOU MIGHT ALSO LIKE...