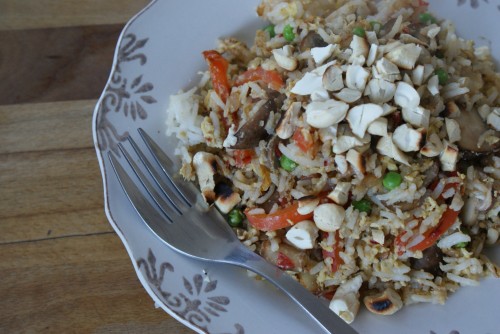 A simple recipe, perfect for using up leftovers and shoehorning in extra vegetables.This recipe works best with cold rice, so next time you cook rice, cook a bit more for the next day! (Although we use freshly cooked rice as often as not). Top with whatever interesting bits and bobs you have, toasted cashew nuts, coriander, sliced spring onions, extra chilli…
Oh, and a little tip. I normally buy a massive chunk of ginger, grate it all up and freeze in ice cubes to use for stirfrys and curries.
Serves 4
Ingredients
3tbsp sunflower oil
1 red chilli, finely chopped
3 cloves garlic, finely chopped
1 thumb sized piece of ginger, grated
Optional: approx 300g cooked and shredded chicken or ham
Approx 500g vegetables, cut into similar sized pieces, e.g.
*carrots, sliced or cut into batons
*peppers or courgettes, sliced into strips
*mushrooms, sliced
*peas
*sweetcorn
*beansprouts
350g cooked rice
4-6 eggs, whisked and seasoned
2tbsp soy sauce
To serve:
100g cashew nuts or peanuts, toasted and chopped
1 small bunch coriander or spring onions, chopped
sweet chilli sauce
You need a really large wok to cook this all at once, if you don't have one, try making it in 2 batches.
Make sure all your vegetables are prepared before you start cooking.
Heat a wok until its as smoking and as hot as possible. If you're using nuts, you can toast them in the pan whilst it warms up, but make sure they don't burn!
Add the sunflower oil, allow to heat up for a few minutes then throw in the garlic, chilli and ginger, stirring furiously, you don't want them to burn.
Now add the vegetables and cook for 3-5mins until beginning to brown.
Throw in the meat in using a stir for a few more minutes.
Now tip in your rice and continue to fry for another minute or so.
Make a well in the centre and tip in the eggs, keep stirring and frying until the eggs are completely cooked.
Finish with a splash of soy sauce.
Tags: eggs, mushroom, nuts, pepper, rice
YOU MIGHT ALSO LIKE...