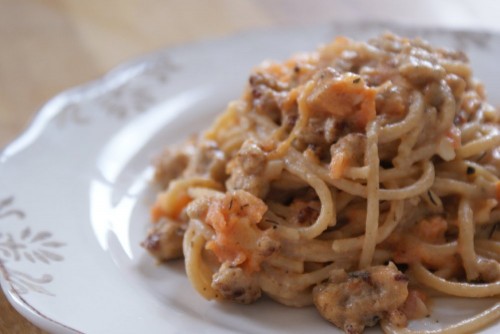 We got some tomatoes in the veg box this week, which was a welcome change, although we of course got the ubiquitous swede of course too (which I made into tasty rostis). I'm always a bit stumped as to what to do with tomatoes, cooking them seems to be a waste as I really want to make the most of their fresh, sweet flavour.
After a bit of time with my recipe books and Google, my favourite Saturday morning past time, I decided on a fresh pasta tomato sauce. I diced the tomatoes, added a little, salt, pepper, garlic and olive oil and left them to marinade before stirring them through hot pasta with a little creme fraiche.
If the tomatoes were firm, red and tasted of summer as I'd hoped, I'd definitely have skipped the creme fraiche and just added some basil. Unfortunately, they were a little insipid and overripe, so needed a boost, but at least I have a recipe for tomatoes past their best.
This spaghetti and almond pasta is another favourite way to eat tomatoes.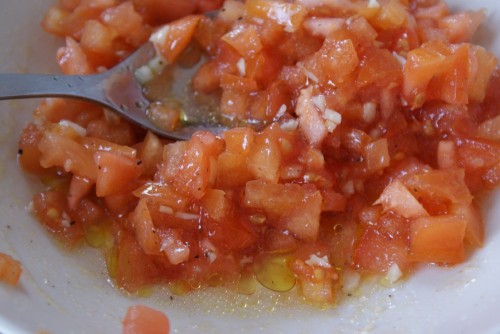 Ingredients
Serves 4
350g spaghetti
4 sausages
2 tbsp olive oil
300 tomatoes, roughly chopped
2 cloves garlic, roughly chopped
handful chopped thyme or oregano
6-8 tbsp creme fraiche
Cook the pasta in plenty of boiling salted water.
Add the garlic, 1tbsp olive oil and plenty of salt and pepper to the tomatoes, stir well and set aside.
Meanwhile, heat a frying pan. Cut a slit into the sausages, remove the skin and break up the filling into small pieces.
Add these to the pan with 1tbsp olive oil and thyme.
Fry until the sausage is golden, add the tomatoes, cooked pasta and creme fraiche and stir well before serving.
YOU MIGHT ALSO LIKE...