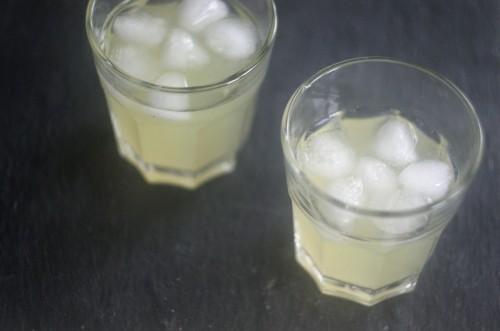 Limoncello is a lovely, rather sophisticated way to end a meal. Either in a shot glass, or over plenty of ice, especially with some lemon biscuits on the side. There are plenty of limoncello recipes out there, the great thing about this one is that it's ready to drink straight away (hurray!) and cost me about £6 to make a one-litre bottle. Most importantly, I think it's actually nicer than shop-bought versions, you end up with something more refreshing and less sweet. Kind of like a lemon sherbert in drink form.
The basic idea is to make a lemon syrup, add lemon zest and juice then mix it with vodka. You can tweak the recipe below to suit your tastes by adding more lemon juice or sugar.

150ml water
200g sugar
6 lemons, juice and zest
500ml vodka
Heat the sugar and water in a saucepan until the sugar dissolves. Remove the pan from the heat and stir in the zest and juice. Cover and leave overnight, or until the syrup is completely cool.
Strain the syrup into a sterilised one-litre bottle, add the vodka and give it a good mix.
Tags: lemon
YOU MIGHT ALSO LIKE...