My friend Kat is my long-time cooking partner in crime – we set up a food website together in Oxford, cooked for many Breakfast Clubs and even made a wedding cake. Kat is leaving in January to live in Australia for a few years, so naturally we decided to get together and cook our last meal together for a while.
Planning (and organising) menus is what we do best and we had a great time putting together an extravagant menu with matching wines courtesy of the wine society. Planning a meal like this is such a good way of having a really indulgent meal without spending loads of money. It meant we could go to Borough Market (early!) to pick up cheeses from Neal's Yard, which is always a real treat, especially as they always let you try lots of cheese before you buy. If you don't fancy doing all the cooking, share it out between a group of you.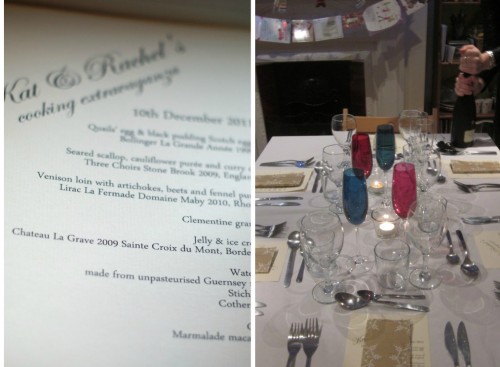 To kick things off and to go with a rather special champagne, we had quail's egg and black pudding Scotch eggs, given that I am guaranteed to order one if I see it on the menu, I've never actually made Scotch eggs myself. But, oh my, are they worth it, especially with the extra addition of black pudding.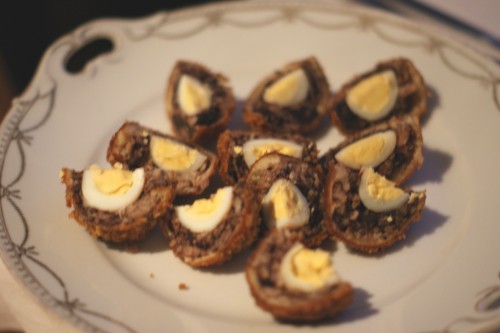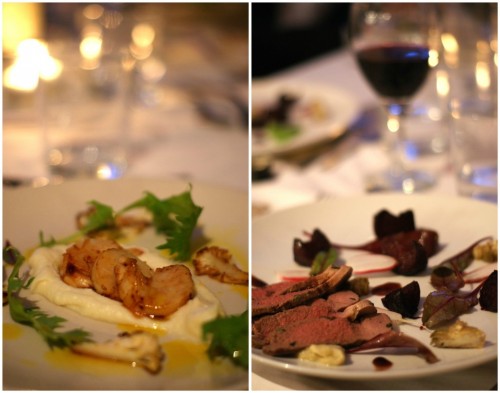 Starter was a Raymond Blanc recipe for Seared scallop, cauliflower purée and curry oil, which is a delicious recipe to try with scallops. Have you tried cauliflower purée before? Rich and delicious, even without the tonne of butter that Raymond adds. I'm thinking of making this instead of mash to go with pork (and I've got plenty of that). The main was Venison haunch with artichokes, beets and fennel purée based on this recipe from the British Larder, which is a great resource for 'fancy' recipes if you fancy doing something like this yourself.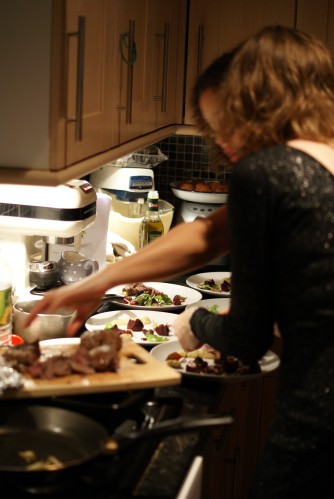 A little pre-dessert of clementine granita from this recipe which would be really delicious as part of Christmas dinner. Then dessert: jelly & ice cream. The jelly was made with my homemade blackberry liqueur served with caramelised white chocolate ice cream. The combination of blackberry and white chocolate was divine, especially as this ice cream is possibly one of the nicest I've ever tasted, you need to make it.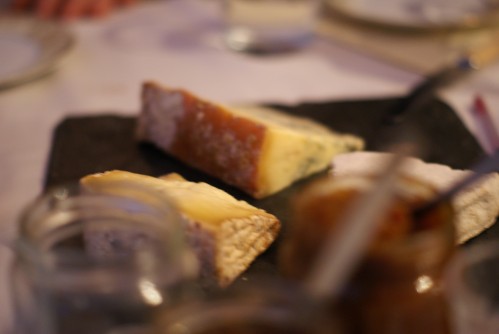 Now for the cheese, ah the cheese. Definitely worth an early morning trip to Borough. We went for a classic Stichelton, a Waterloo and Cotherstone. Kat brought along a load of homemade chutneys and jellies and we managed to devour the cheese almost embarassingly quickly.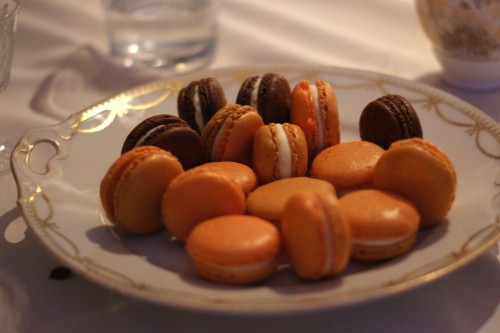 Finally, finally… coffee and macaroons. Another perk of cooking this sort of meal at home? There's nowhere for you to get chucked out of, I'm not sure what time we made it to this course, but it was after 1am…
Farewell Kat! Here's to cooking many more meals together (some in Australia!). xxx
YOU MIGHT ALSO LIKE...