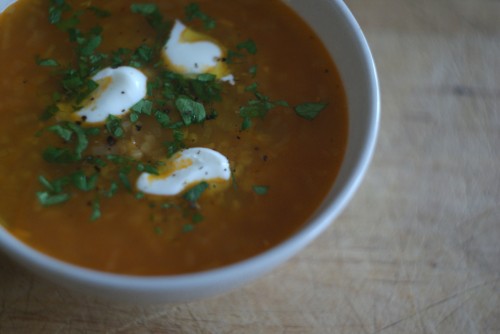 I'm really starting to feel the effects of Christmas, it's not that I have a tonne of Christmas parties to go to, but there have been a few too many birthdays and special meals.  Couple that with the cold weather and I've been tempted to eat mash for every meal. While this would make me pretty happy temporarily, I don't think I would be when my jeans no longer fit and I succumb to all the Christmas bugs going around.
This is where I turn to soup, I love the fact that even if I've been really disorganised I can make a soup out of pretty much any of the dregs in the salad drawer. I usually add a can of cooked beans or a handful of red lentils to make it a little more filling (beans and lentils count as one of your 5-a-day too) and dinner can be on the table, or more realistically my lap, in less than half an hour. If you've time to go shopping, try Jamie Oliver's delicious pumpkin soup with rice or this bean and noodle soup from 101 cookbooks. If this still doesn't sound like a proper meal to you, just add bread, even better, make it cheese on toast. Or pop a poached egg on top.
I always make a big pot soup so I have plenty to take into work for lunch the next day and it freezes well too if you want to make a big batch. Oh yeah, it's cheap as chips to make too, which my purse is grateful for.
Here are some of my favourite soup recipes:
Bulghur and red lentil soup
A simple soup, filling yet healthy and mostly storecupboard ingredients.
Cauliflower and cannellini soup
Cauliflower is wonderfully creamy when blended into a soup and the cannellini beans make this extra filling.
Split Pea Soup
This simple soup is still one of my all time favourites.
Beetroot Soup
If you've never tried beetroot soup, try this version of a classic borscht. A glug of vodka and lime juice cut through the sweetness of the beets to make a rich, earthy soup.
YOU MIGHT ALSO LIKE...