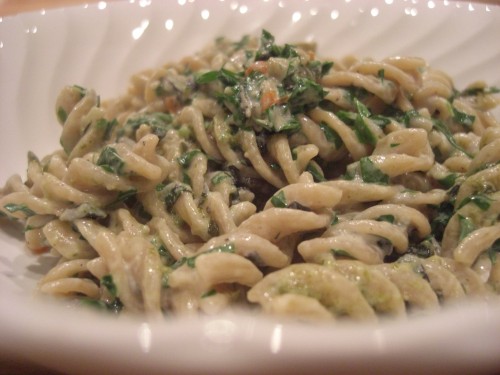 This was borne out of post pub hunger and trying to assemble something out of what was in the fridge. Thankfully you can't really go wrong with garlic, capers, anchovies, olives and herbs (we had oregano and parsley). For some reason, we decided to stir in a bit of creme fraiche at the end, but it was actually really tasty. Certainly soothed our boozed filled tummies…
Herby Pasta
Ingredients
Serves 2
Olive oil
2 cloves garlic, finely chopped
3 anchovy fillets, chopped
2tbsp capers
2tbsp olives, chopped
200g pasta
1 bunch chopped herbs (any combination)
2tbsp creme fraiche
Cook the pasta in plenty of boiling salted water. Meanwhile cook the garlic and anchovy in a slug of olive oil slowly until the anchovy dissolves. Add the pasta to the pan with the rest of the ingredients and season to taste.
Tags: anchovy, basil, capers, olives
YOU MIGHT ALSO LIKE...