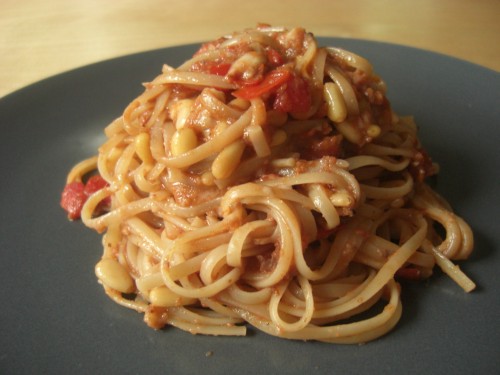 More pasta and more anchovies. You may be forgiven for thinking I'm obsessed, which is partly true, but you can't can't really go wrong with pasta can you? And anchovies are the perfect storecupboard ingredient.
Having spent most of the Bank holiday watching Jamie Oliver on BBC Food, I had a hankering for pasta, I found this in his Jamie's Italy book. You basically cook down some garlic, pine nuts and anchovies, add some red wine and tomatoe puree and stir through some breadcrumbs at the end. It sounds a bit strange, but I made it because it was the only recipe I had any ingredients for. Anyway, as you can probably guess, it turned out pretty damn tasty. I've specified less anchovies than I actually used to give a salty depth of flavour, rather than anything overpowering. If you love anchovies as much as me, use more!
Pasta with Anchovy and Tomato Sauce
Serves 1
Ingredients
1 clove of garlic, finely minced
2 anchovy fillets, roughly chopped
1tbsp pine nuts
1tbsp tomato puree
60ml red wine, or a slug of red wine
1tbsp breadcrumbs
100g pasta (linguine works best)
cheese to serve
Cook the pasta in plenty of salted boiling water. Cook the anchovy and garlic slowly in 1tbsp olive oil. As the anchovy dissolves, add the pine nuts, cook until they start to brown. Add the wine and tomato and cook for a few more mins until the alcohol had bubbled off. Add the cooked pasta, stir to coat and sprinkle over the breadcrumbs and cheese.
YOU MIGHT ALSO LIKE...