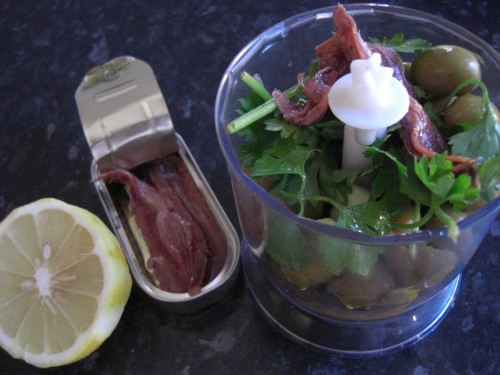 All the tastiest things (olives, anchovies, capers, garlic, parsley) blended into a paste and eaten with pasta. What could be tastier?
This will keep for a few weeks in the fridge, if you cover it with a layer of oil.
Ingredients
200g spaghetti
grated rind and of 1 lemon and juice of ½
small bunch fresh flat leaf parsley
1 tbsp capers
large handful black olives
pinch crushed chilli flakes
4tbsp olive oil
1 large garlic clove
3 anchovy fillets
salt and freshly ground black pepper
parmesan cheese, to serve
Blend everything apart from the parmesan and stir through pasta.
The first night I made this, I had it on its own with spaghetti. The next night, I had lots of things to use up in the fridge. I chopped some tomatoes, added a couple of tablespoons of the pistou, some creme fraiche (my new favourite ingredient), basil and pine nuts. Delicious with pasta.
YOU MIGHT ALSO LIKE...