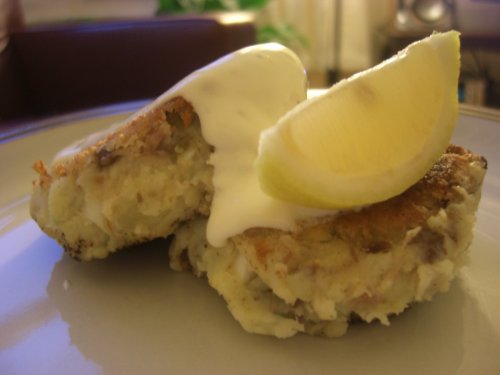 I've become mildly obsessed with reading other people's blogs (a list of my favourites to go up soon) and fantasising about 1. taking pictures as good as theirs and 2. being given my own book deal. I soon realised that I need to get a much flashier camera in order to take those kind of pictures, in the meantime, I'm getting increasingly frustrated with my own. So whilst I don't like this picture (bad lighting), I had to post it as these were the BEST THING EVER when we had them for tea last night.
These are not your run of the mill fishcakes. Firstly we used smoked mackerel, fast becoming my favourite omega 3/protein/fishy source, these add much more smoky flavour than the traditional smoked haddock and are obviously the sustainable choice. We also used organic potatoes from the veg box, I'm not always convinced that organic tastes better per se, but with potatoes you can really taste the difference, even against all these strong flavours. After a little research, I also decided to add some capers, chopped boiled egg and chives (mostly because we had them and no parsley). And there you have it, the ultimate fishcakes.
We just coated them in flour, but there's a nigella recipe where she coats them in flour, then egg, then crumbled ritz biscuits for crunchy coating. The joy with these is that you can then bake them in the oven. A bit labour intensive for me and the flour and fry method worked out just fine for us.
The other key component was a lemony creme fraiche sauce that we had alongside and worked really well. All I did was add some seasoning, lemon zest and the juice of ½ lemon to a pot of creme fraiche and set aside.
We had ours with salad, a particularly good one is pea, spinach and avocado or an astringent salad of baby gem lettuce, capers and chopped gherkin, both with a mustardy dressing.
Ingredients
250g smoked mackerel, flaked into large pieces
250g potatoes
2 free range eggs
50g butter
milk (for mashing)
2tbsp capers
Chop the potatoes and cook in plenty of boiling salted water until tender. Add the eggs to the pan for 8mins and remove. One the potatoes are cooked, drain and mash with the butter, adding a little milk to loosen if necessary. Peel and chop the boiled eggs and add to the mash along with the capers, ½ the lemon zest, chives and smoked mackerel. Stir together and taste, you may or may not want to add some lemon juice at this stage. Now divide the mixture into roughly 8 and shapes into cakes, roll in flour and set aside in the fridge for 30mins to firm up.
Meanwhile add the juice and zest of ½ lemon to the creme fraiche along with slat and pepper.
Heat some oil in a pan and fry the fish cakes on each side on a medium heat for 4-5 mins until warmed through and crispy on the outside.
Eat with salad and the creme fraiche sauce. Happy food dance optional.
Tags: capers, mackerel, potato
YOU MIGHT ALSO LIKE...