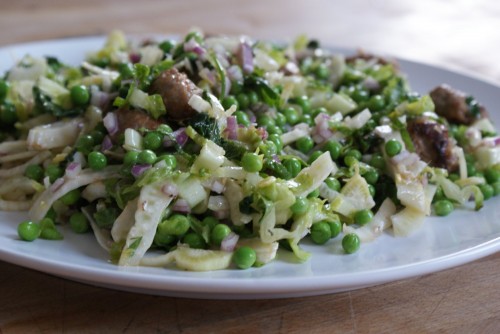 I picked up some lovely organic pork meatballs from Waitrose (who can resist a 'reduced' bargain these days?), at the time I was thinking of a rich stew spiced with cumin, coriander and cinnamon to eat with a mound of cous cous and a dollop of yoghurt (serious comfort food) . Alas, the weather was having none of it, after sweating it home on the tube, the thought of cooking a stew and then eating was not appealing.
Off I went to the cookbooks and came back with this recipe from Delicious magazine. A fresh and summery salad of sweet peas, broad beans, crunchy radish and meatballs made by splitting open sausages and rolling them into balls. View this as completely open to interpretation – we used what we had in the fridge for ours, some thinly sliced fennel, peas, lettuce and red onion along with the lovey meatballs.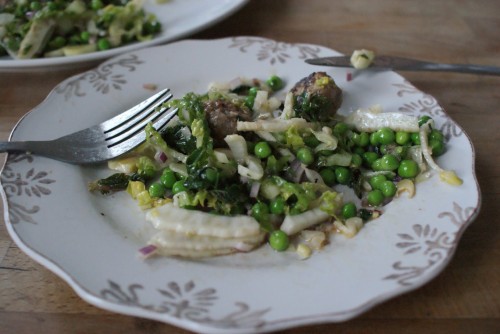 What brings the whole thing together is a generous scattering of mint and parsley and a deeply flavourful dressing made from (a lot of) anchovies, garlic and lemon juice.
Leave out the meatballs and this is a great side salad or try it grilled chicken or fish and here you could add capers for extra zing. I must admit I also mixed the leftovers with some bulghar wheat for my lunch – perhaps a little unorthodox but the extra carbs bulk it up and make it a little more exciting for lunch rather a leftover soggy salad.
Dressing
1 garlic clove
4tbsp olive oil
6 anchovy fillets, chopped
juice 1/2 lemon
To serve:
1 small bunch of mint and parsley, roughly chopped
To make the dressing, heat the anchovy fillets and olive oil gently until the anchovies melt, now add the garlic and lemon juice and some black pepper.
YOU MIGHT ALSO LIKE...