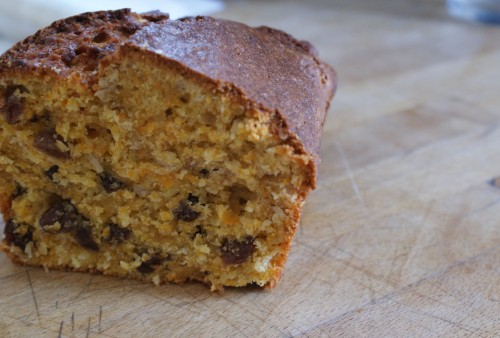 Inspired by this recipe on 101cookbooks.com – I was all set to make a crazy sugar free super healthy cake. Thwarted by my local shops and with a distinct lack of dates, this isn't as healthy as I'd hoped for. But, like I said if you want to do that, make this recipe instead.
What I did come up with was a tropical carrot cake if you will, packed with dessicated coconuts, raisins and carrots. Perfect for an afternoon pick me up and I'd imagine all the better with some cream cheese frosting.
Ingredients
125ml oil
225g soft brown sugar (or 200g caster sugar )
3 eggs
3 medium carrots, grated
175g plain flour
2 1/2tsp baking powder
2tsp cinnamon
1/2tsp nutmeg
50g raisins, soaked in boiling water for 5mins and drained
100g dessicated coconut
Preheat the oven to 180C/Gas 4/fan 160C. Oil and line the base and sides of a loaf tin with baking paper. I usually just use one big piece to line the base and the longer sides and don't bother with the shorter ones.

Whisk the sugar, oil and eggs together until well combined.
Sprinkle in the cinnamon, nutmeg, baking powder and flour, using a wooden spoon, stir into a thick batter.
Stir in the carrots, coocnut and raisins. Spoon into the loaf tin.
Bake in the ven for 30-40mins until its firm and springy on top and a cake tester comes out clean.
YOU MIGHT ALSO LIKE...