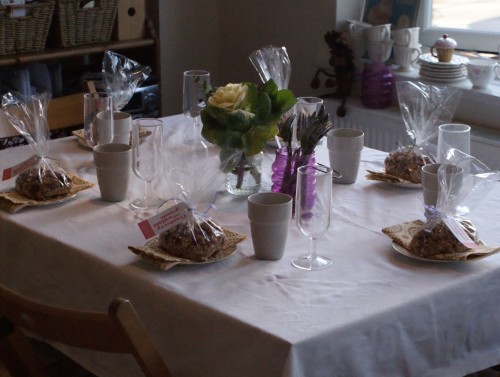 I've not written about The Breakfast Club for a while, I've been too busy cooking for The Breakfast Club.  I dipped my toe into dinners at the end of the year, but this Sunday was back to brunch and a lovely one it was too, not only because I got to meet lots of lovely foodies (including Nora the Kitchen 'Splorer), but I also tried lots of new recipes that I wanted to share, mainly because they were outrageously good.
Praline Danish pastries
So so good. Super soft Danish pastry filled with praline and custard. I got the recipe here, but tweaked it a little to make it easier. I'm going to make some more to see if I can make it even easier and I'll post the recipe soon. Promise.
Potato pancakes
These are a Dan Lepard recipe that I got via Food Stories. They look fairly unassuming, but they are soo tasty, the perfect brunch food and dead easy to make. We had ours with roast tomatoes, sausages and a poached egg.
Chocolate and pumpkin cake
Another Dan Lepard recipe and yet again, so yummy! This is a dense, fudgy, chocolately cake, that actually gets better after a day or so. The splash of rum in the icing is genius too, I'll be adding a dash to my icing from now on…
YOU MIGHT ALSO LIKE...