Valentine Warner is a bit of a new celebrity crush of mine – reading all the hype a few months ago, I was unconvinced/jealous. But as soon as you watch a programme, his infectious enthusiasm rubs off on you and I always warm to someone as downright greedy as he is.
So, when he made this on Monday's episode, my friends and I were practically salivating. A cucumber in my vegetable box was a sure sign that it needed to be made. First, peel a cucumber and slice thinly (I used the slicer on the side of my grater, quite an exciting discovery!) , drop them into a colander and salt generously. The idea is draw most of the water out so you're left with lovely crispy slivers.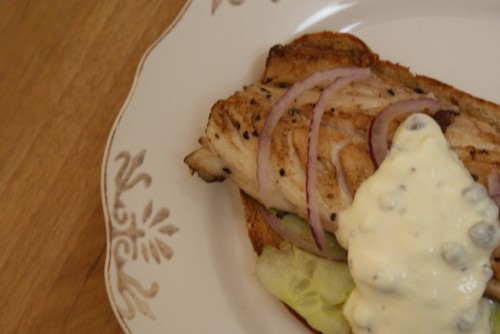 For the mackerel, all you need to do is season and fry for a few mins on each side in hot pan with a knob of butter and drizzle of oil. Toast a thick slice of sourdough, butter generously, top with a handful of cucumber, a mackerel fillet, some thinly sliced red onion and a wedge of lemon. Perfection.
Now, the icing on the cake (so to speak) was the horseradish sauce he made with it, I loved the idea of punchy sauce to go with the mackerel. needless to say, I couldn't find fresh horseradish in Brixton, so I decided to a really simple lemony yoghurty dressing instead. A few tablespoons of yoghurt, the juice of half a lemon, plenty of seasoning, a little garlic and some capers. Really you just want something moist to go with this and you can't really fault lemon and fish. But next time, I will be steeling myself to try the horseradish (I cry enough over onions, I'm a bit scared of horseradish…)
Here's the recipe should you need it, and here's his fabulous book that I'm stopping myself buying… I'm getting a little too click happy at the moment on Amazon, I just bought this recipe book holder though – very exciting!
YOU MIGHT ALSO LIKE...