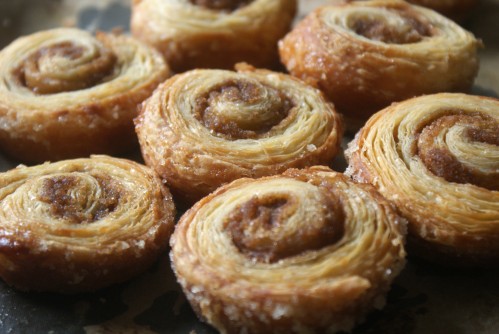 I've spent a long time looking for the perfect recipe for breakfast pastries and I thought I had it with these. I've even veered from Nigella's trusty recipe and dabbled in (delicious) recipes from Scandalicious and Sweetapolita. But sometimes, all it takes is a little tweak in the method to take something from very good to perfection. And believe me, these pastries are perfection.
They still use Nigella's brilliant food processor Danish pastry as the base, but instead of just baking the pastries on a tray, they get baked in a muffin tray, and herein lies the genius; baking the pastries in a muffin tray helps stop them unravelling and, crucially, ensures that perfect squidgy centre that is surely the best bit of any pastry. Honestly, they're a revelation. I made these for a brunch with friends the other day, and in between appreciative moans, we discussed other possible fillings. Suggestions included Nutella and extra chopped hazelnuts (OMG)  or a thick vanilla custard.
Unfortunately, I can't claim credit as I've been using this recipe, word for word, from Seven Spoons.  I've made a few tweaks; namely, I make twice as much pastry than you'll need so you can stash half in the freezer for easy pastries next time. And, I've translated into UK friendly measurements (cup measurements drive me mad).

makes 12 pastries

For the pastry
This recipe is taken from Nigella's excellent How To Be A Domestic Goddess
, which is seriously a must for anyone who likes baking.
60ml warm water
125ml milk
1 egg
350g white bread flour
1 sachet fast-action dried yeast
1 tsp salt
25g caster sugar
250g cold unsalted butter, thickly sliced
Whisk the water, milk and egg together in a jug.
Blitz the remaining ingredients briefly in a food processor (you still want large chunks of butter).
Tip this into a large bowl and stir in the mixture in the jug. Don't worry if it looks like a gooey mess. Cover the bowl with cling film and leave in the fridge overnight.
Take the dough out of the fridge and leave it for 30 minutes to get to room temperature. Roll the dough out into a large rectangle (about 35cm x 70cm). Fold the dough into thirds, one third on top of the other.
Rotate the dough 90 degrees then repeat the rolling and folding process. Repeat this whole process 3 more times (including the rotating).
Cut the dough in half and put each half in a large sandwich bag. Chill the dough in the fridge fro 30 minutes and continue with the recipe below. Alternatively, you can leave the dough in the fridge for up to 3 days or freeze it. If you freeze it, defrost it overnight in the fridge.
For the filling
35g granulated (or caster) sugar, plus extra for dusting
35g light brown sugar
½ tsp ground cinnamon
¼ tsp ground ginger
¼ tsp ground cardamom
50g butter
½ Danish pastry recipe (see above)
Melt the butter. Brush the holes of a muffin tray with the butter (using as little as possible), then sprinkle a little sugar into each hole and (preferable over the sink or a bin) carefully shake the sugar around the holes so they're completely covered. Tip out any excess sugar.
Mix the sugar and spices together in a bowl.
Remove the dough from the fridge and roll into a 35cm x 70cm rectangle on a lightly floured surface.
Brush the pastry with the melted butter and sprinkle over the sugar mixture evenly.
Carefully roll up the pastry, from the longest edge, as tightly as possible. Cut the log into twelve, turn cut-side up, flatten slightly and place into a muffin hole.
Set aside somewhere warm for about an hour.
Preheat the oven to 190C.
Bake the pastries for about 20 minutes, or until risen and golden-brown. Remove from the oven and leave to cool slightly, then carefully put them on a cooling rack.
Tags: pastry
YOU MIGHT ALSO LIKE...