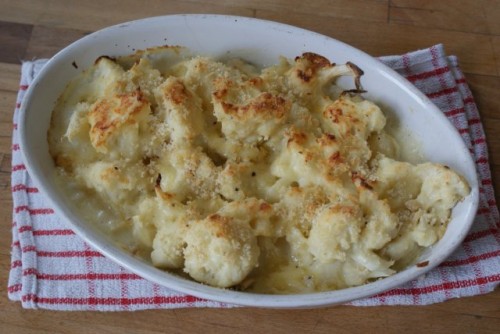 Most things are improved by the addition of cheese sauce. I remember eating a sunday dinner at a friend's house once; the usual roast potatoes, carrots, parsnips and greens. The meat of choice was a large ham, with a sticky sweet glaze. All in all a good spread I thought, then out came the piece de resistance, a jug of cheese sauce! Can you think of anything better than being allowed to douse all of your food in a cheesy blanket?
Alas, I like to think to think that my tastes have moved on a little and these days, I sometimes even eat meals that don't don't contain any cheese. But cauliflower and any other slightly bitter counterparts such as green cabbage and kale really do benefit from a bit of cheese sauce. I'll often eat it as a meal in itself with some salad or a few roasted vegetables. Roast potatoes, super crispy with a fluffy centre are particularly divine dipped into the sauce.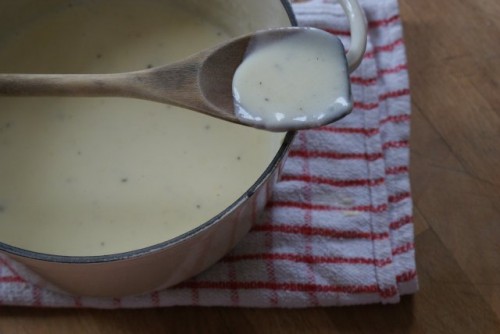 Ingredients
Serves 4
1 medium cauliflower
40g butter
40g flour
500ml milk
125g strong cheddar, grated
1/2tsp english mustard
2tbsp breadcrumbs
Remove the outer leaves from the cauliflower and break into small florets. Place in a large saucepan, cover with water, add 1/2 tsp salt and bring to the boil.
Once the water comes to the boil, drain and tip into a large baking dish.
Meanwhile, heat the butter in a large saucepan, once melted add the flour and whisk thorughly, continue cooking until the mixture (a 'roux') turns a nutty brown colour.
Now add the milk slowly, whisk it completely into the mixture as you go to avoid lumps.
One all the milk is added, cook over a low heat, stirring all the time until the sauce thickens, it should coat the back of a spoon.
Now take off the heat, season well and add the cheese and mustard, allow it melt for a minute or so and stir well.
Pour over the cauliflower and top with the breadcrumbs.
Cook at 200C for 20-30mins until bubbling and golden.
Tags: cauliflower, cheese
YOU MIGHT ALSO LIKE...