Phew! After weeks of poring over potential menus, testing recipes and designing various pieces of stationary, we finally held the very first Breakfast Club!
With lots of help, especially from my co-chef Kat, things went off without a hitch. (Except for worrying about the weather, how to poach eggs for 12 people at once and whether there'd be enough food…) There are still places left for brunch on July 10th and plans are afoot for afternoon tea and dinner, I'll keep you posted!
See more pictures and the menu below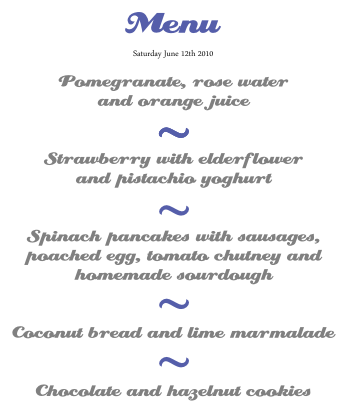 Strawberry and elderflower salad with pistachio yoghurt – (recipe here)

Cherry tomato and chilli jam

Coconut bread – waiting to be toasted (recipe here)

Lime marmalade

Chocolate and hazelnut cookies to take home – recipe here
YOU MIGHT ALSO LIKE...