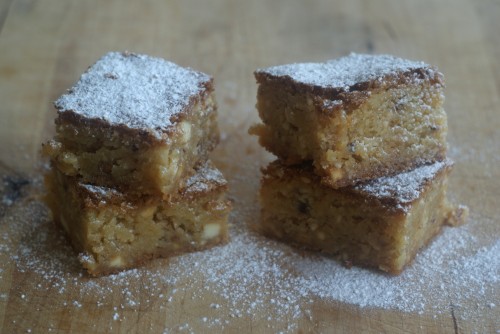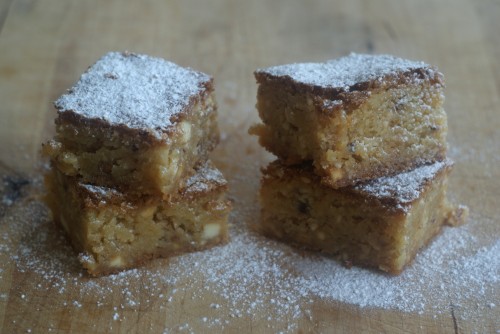 Unbelievably, I've been writing this blog for nearly three years (!) so sometimes my favourite recipes, those that I cook again and again tend to get a little lost. I discovered these brownies at uni (from a friends Good Housekeeping book, I think) and have been making them ever since. They're my dad's favourite thing in the whole world and since I just baked a batch for his birthday, I thought I'd re-post this recipe.
You must seriously make these, they're a revelation – super sweet and gooey. The first time I tried them, I loved them so much I pretty much baked them continuously until they made me feel a bit sick. Now don't do that, but do bake them. They are about a million calories in each brownie, but why eat a brownie that doesn't? It pretty much guarantees it will be tasty.

makes approx 20 brownies
500g white chocolate
75g butter
175g sugar
3 eggs
2tsp vanilla
175g self-raising flour
1tsp salt
175g chopped hazelnuts
Preheat the oven to 180C. Grease a 20cm square cake tin.
Melt 100g of the white chocolate and the butter. Allow to cool slightly.
Chop the remaining chocolate (I sometimes whizz it in a food processor, but make sure it's not chopped too finely).
Meanwhile, whisk the sugar and eggs together until smooth, then whisk in the butter-chocolate mixture and vanilla. Fold in the flour and salt.
Stir in the chopped chocolate and hazelnuts. Spoon the mixture into the cake tin and bake for 30-40 minutes, until firm on top, but still a little squidgy (the brownie will carry on cooking whilst it cools). If the top starts to look a bit brown, cover it with foil.
Tags: brownie, chocolate, nuts
YOU MIGHT ALSO LIKE...