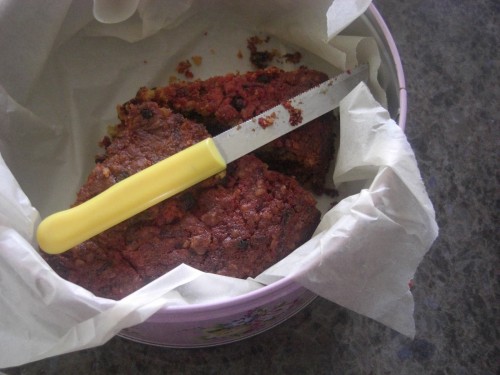 Don't be put off by the title, think carrot cake…
I've started getting an Abel and Cole veg box, which I really love. They also do lots of other products, so I've been getting eggs delivered every week and I've just ordered some mackerel caught off the coast of Cornwall, that's some sustainable fish. As lovely as it is having all these vegetables at my disposal, I am only one person and there was a lot of veg, I got through most of it, but was left with some sad looking beetroots at the bottom of the fridge. Now, I love beetroot and it can be used in all manner of ways, (I'm thinking beetroot and mackerel salad next week) but this cake recipe caught my eye and I do always like to have cake around. I added some oats to this too, so it is positively healthy eating.
Ingredients
200g raw beetroot, peeled and grated (about 2-3 medium beetroot)
100g sultanas, soaked in boiling water and drained
150g sugar
3 eggs
150ml sunflower oil
1tbsp baking powder
150g plain flour
100g porridge oats
2tsp cinnamon
Whisk the eggs, oil and sugar together. Then fold in the flour, oats, baking powder and cinnamon. Finally, fold in the beetroot and sultanas, Mix thoroughly and pour into a greased and lined cake tin. Bake for about an hour at 180°C. This worked well in a 20cm round cake tin, but I think would also make a nice loaf cake. Next time I think I will also try icing it with some sort of cream cheese icing.
Tags: beetroot
YOU MIGHT ALSO LIKE...