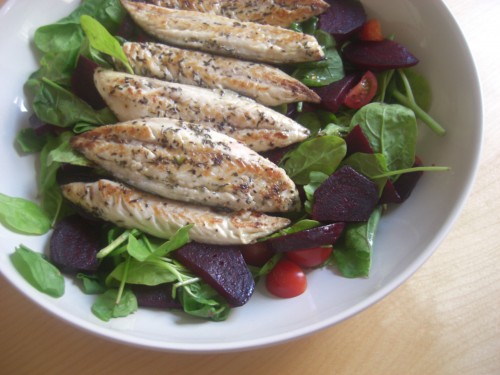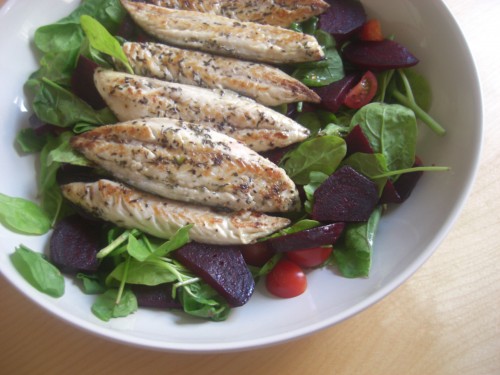 Faced with the mountain of beetroot building up I made this salad. I love beetroot, it goes really well with sharp salty cheeses like feta or goats cheese, but the sweet, earthy beetroot goes surprisingly well with the oily mackerel. I was lucky in that I had all the lovely organic vegetables from my veg box, having said that this would still be pretty tasty with the pre-cooked beetroot you can get.
When handling beetroot, the thing to remember is to wash your hands and any utensils straight away otherwise they will stain.
Mackerel and Beetroot Salad
4 fillets mackerel
1tsp dried or fresh thyme
½ lemon
125g cherry tomatoes, quartered
2 handfuls spinach, sliced
2 medium sized beetroot
1 clove garlic, finely chopped
Boil the whole beetroot for 40-45mins until soft. Drain, allow to cool and cut into thin wedges. Season and drizzle with some olive oil and lemon juice. Drizzle the mackerel fillets with olive oil, season well and sprinkle over the dried thyme. Get a frying pan really hot, fry the mackerel for a couple of mins on each side, when cooked, remove and squeeze over some lemon juice. To assemble the salad, mix the vegetables and place the fish on top.
Tags: beetroot, Fish recipes, mackerel
YOU MIGHT ALSO LIKE...