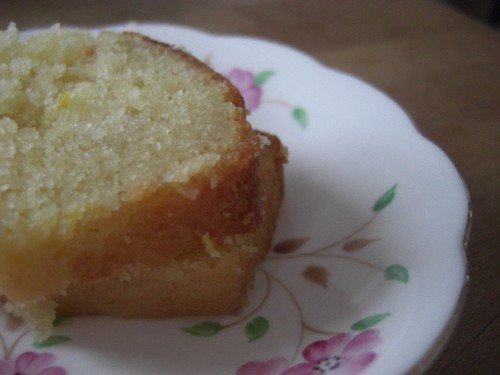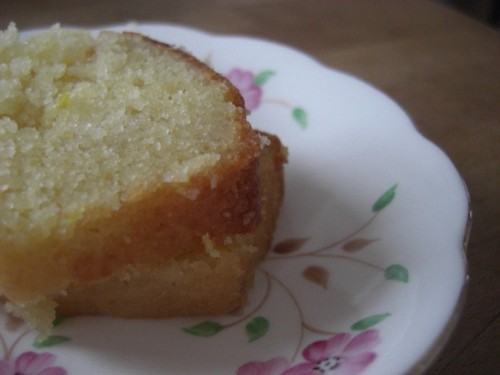 I'm a big fan of plainer cakes, the kind that you can bake at the beginning of the week and have a slice (or two) everyday with a cup of tea. Lemon drizzle cake is a classic example of this genre, the syrup adds a little extra gooeyness to the cake.
This recipe is, naturally, Nigella's and you can't really go wrong with that. I like to sometimes substitute half the flour for ground almonds, or add poppy seeds to the cake (these little black seeds really transform it into something else). With my bottle of limoncello in hand, I've also been known to add a splash to the syrup. Now I'm also thinking that you could make a lime drizzle cake (use the zest of 2 limes instead) or orange, you'd probably need less sugar for the syrup.
We used this last night to make a mini trifle, I put a slice of the cake in the bottom of a small dish, topped with raspberries doused in icing sugar and limoncello and then topped with greek yoghurt (I couldn't be bothered to whip cream after I melted the wire on the my electric whisk).
Ingredients
125g unsalted butter, softened
175g caster sugar
2 eggs
zest of 1 lemon and 100ml lemon juice, about 1 lemon
175g self raising flour
pinch salt
4 tbsp milk
100g icing sugar
Cream the butter and sugar, add the eggs one at a time, whisking thoroughly in between and finally the lemon zest. Now sift in the dry ingredients and fold together, add a little milk to loosen the mixture if it looks too stiff, t should be of 'dropping' consistency (i.e. it 'drops' off a spoon when held up). Transfer the mixture to a greased and lined loaf tin and bake at 180C for 45mins or until golden and a tester comes out clean.
Whilst the cake is cooking, prepare the syrup. Add the lemon juice and icing sugar to a pan, heat gently, stirring occasionally until the sugar dissolves.
Once the cake is cooked, remove it from the oven and prick all over with a cake tester or knife, now pour the syrup over, allowing it to sink into the cake. Try to pour it over the middle so that it doesn't all go down the sides. Wait until the cake is completely cold before removing from the tin.
Tags: lemon
YOU MIGHT ALSO LIKE...