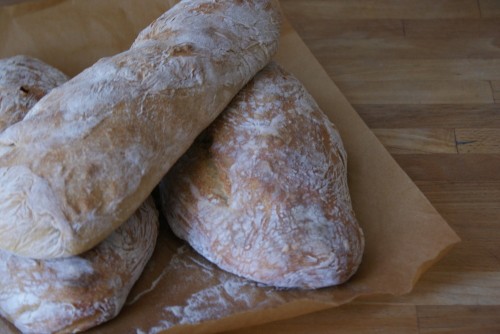 We've been making our own bread recently, not even with a breadmaker (which I happen to have tucked away in some dark corner), just old fashioned mixing in a bowl, a bit of kneading, some proving here a spot of baking there and you're left with a delicious loaf of bread. And believe me, it is delicious, worth the (minimal) faffing it involves.
Although it doesn't exactly take long, its realistic that this would be more of weekend activity, in which case, double up and freeze half so you have lovely homemade bread all the time.
So, this is our current favourite. Potato bread From How to be a Domestic Goddess
, almost sourdough like tanginess, a chewy crust and the most incredible toast. I had this freshly baked on the morning of my birthday, a suitably decadent way to start the day I think.
Potato Bread (from How to be a Domestic Goddess
)
Ingredients
300g cold or warm boiled potatoes
700-800g strong white flour
1tbsp salt
1 sachet easy-blend yeast
1tbsp yoghurt
300ml tepid potato water (water the potatoes were cooked in)
Rice (or mash) the potatoes into a large bowl and add 600g flour, the salt and yeast.
Mix together, add the yoghurt and potato water slowly until you have something resembling a dough.
Tip this out onto a surface and knead, add the rest of the flour slowly. This will be a rather damp and sticky dough so be prepared to knead for about 10mins.
Once the dough is smooth, tur into a butter bowl, cover and leave to prove. you want it to be doubled in size. Either leave the dough in the fridge overnight or in a warm place for an hour or so.
Once doubled in size, punch the air out the dough, a useful de-stressing exercise, knead for a minute and shape into whatever shape you like. I prefer a longer, thinner loaf as its easier to slice.
Sit on a baking tray and cover loosely with a tea towel for about 30mins until the bread is aerated again and almost doubled in size, in the meantime, preheat the oven to 200C.
Once puffy, bake the bread for a bout 30mins until brown.
To test whether the bread is cooked, tap the bottom of the bread and it should sound hollow.
Sneak a little slice whilst the bread is still warm, slather with butter, eat and feel smug at your breadmaking skills
YOU MIGHT ALSO LIKE...