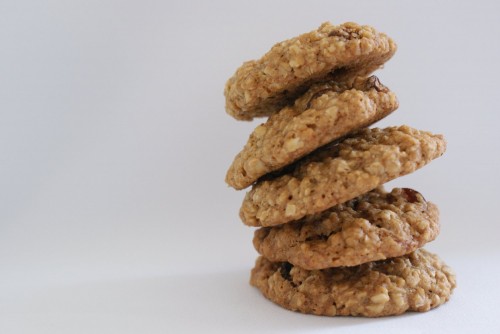 I like chocolate in the right context – a dark and fugy brownie, thick and gloopy for dunking churros or an intense chocolate cake. But when it comes to most sweet things, ice cream, cakes etc. I prefer something a little plainer.
I like the simplicity of these oat and raisins cookies. To be honest, I thought about doing away with the raisins altogether and just having a soft and chewy oat cookie flavoured with cinnamon; but they do impart a little nugget of sweetness. The inclusion of oats also makes them fair game for breakfast. I made about 24 cookies from this, baked in two batches. Truth be told, the first lot burnt and I threw them out in a temper, but the second half were delicious, they kept happily in tupperware for several days.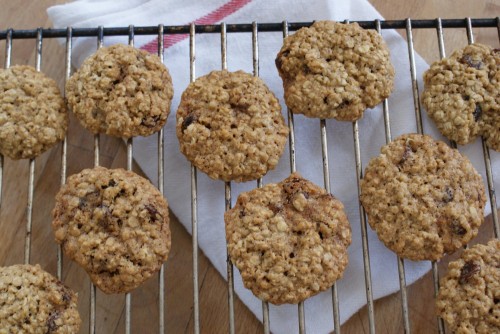 The recipe is from Bake! by Rachel Allen and pretty straightforward. The only snag with making cookies is knowing when to remove them from the oven. Perfect chewy cookies become rocks in a matter of minutes. You want them golden around the edges, just hard; and still very soft in the middle. Once out of the oven, they will firm up a huge amount, I prefer mine on the edge of too soft rather than hard.

**Recipe from Bake! by Rachel Allen
Ingredients
Makes 25-30 cookies
110g soft butter
110g caster sugar
110g soft brown sugar
1 egg
2tbsp water
1tsp vanilla extract
250g porridge oats
110g self raising flour
1/2 tsp salt
110g raisins
Cream the butter and sugars together with a wooden spoon or electric whisk until light and fluffy.
Beat in the egg, water and vanilla.
Stir in the oats, flour, salt and raisins until you have a thick and stciky dough.
Roll the dough into walnut sized pieced and place onto a lined baking sheet, spaced out.
Bake at 180C for 15-20mins until light golden brown but still soft.
Allow to cool for a few mins and then transfer to a wire rack.
YOU MIGHT ALSO LIKE...