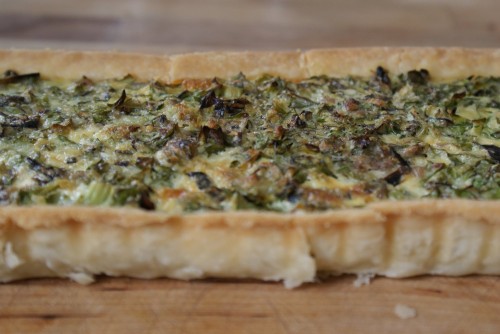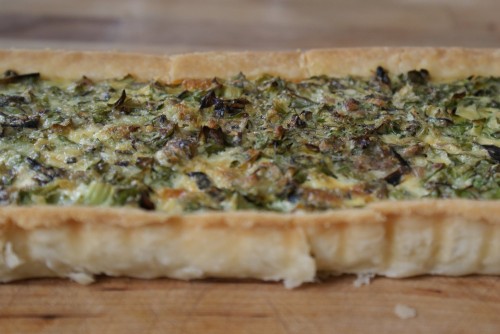 I've been lusting after this baby
for a while now, everywhere I look in food magazines, there are beautiful tarts made in this rectangular tart tin. Not only was I won over by the elegance, I also hoped it might be easier to line with pastry and blind bake (I ALWAYS get holes). So, it was with great delight that I wandered around John Lewis homewares department last week and came out clutching my tin.
We seemed to get an explosion of green in the veg box this week, a bag of beautiful baby spinach, earmarked for nothing more than a salad and big bunches of spring greens. In my quest for tart inspiration, I came across this recipe on BBCGoodfood.com, except I used stirfried sping greens, chopped finely instead. The anchovies are not overpowering at all, but lend a salty savouriness, that perks this up and stops it being bland.
I also skipped the potatoes and made a potato salad instead. Slice new potatoes into thick coins and roast with olive and oil and salt until cooked through and golden, make sure you scrape them off the bottom of the roasting tray every so often to stop them sticking. Once cooked, add pepper, a squeeze of lemon juice, finely chopped onions and parsley. My new favourite way to eat new potatoes.
As you might expect, this is delicious eaten at room temperature so leftovers won't last long as I discovered when we devoured them at 4am after a night of dancing. The crumbs were quite a depressing sight the following morning.
YOU MIGHT ALSO LIKE...