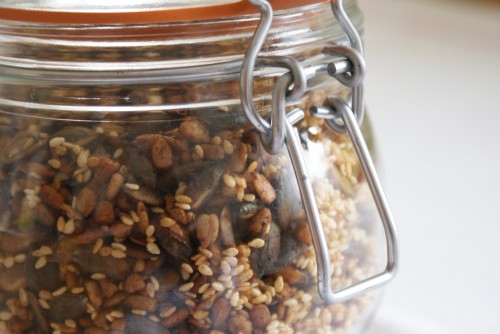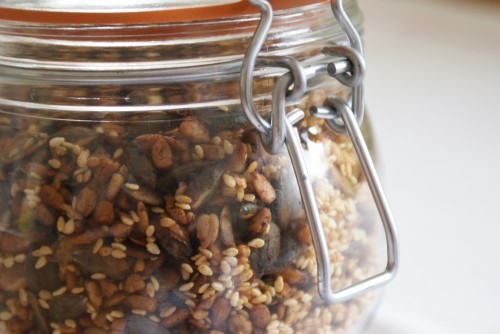 Having been a vegetarian for so long (although decidedly lapsed now…) I know you don't need meat to complete a meal. And while I certainly appreciate the charms of a roast chicken, or sausage or steak; I love vegetables and am happy to make them the star of the show.
Unfortunately, they are often jostling for space with my other favourites – eggs, cream, cheese, potatoes, pasta, rice – you get the picture. In an attempt to eat a balance diet, I often shoehorn in more veggies with a side salad. Nothing fancy and at this time of year, its downright easy with everything tasting so damn good.
I always have seedy sprinkle and mustard dressing on hand, these two will liven up anything. Be it a few lettuce leaves or a grated carrot. I like to add finely chopped red onion or spring onions. Cool and creamy avocados for a hint of oily goodness. Quartered cherry tomatoes – so sweet and full of flavour right now. Thinly sliced fennel or cabbage, a handful of defrosted peas add a little sweetness. The list goes on…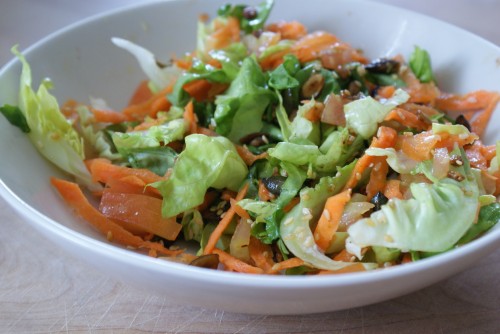 I used to make this seedy sprinkle in big batches when I worked at pieceofplenty, hazelnuts, sunflower, pumpkin and sesame seeds roasted in chilli powder, paprika and soy sauce. You're left with crunchy, spicy seeds that make any salad instantly delicious, be it simply grated carrots or a couscous salad.
I've not been able to get my fix lately, so I knocked up my own batch today. It was all done in half an hour.
To make this, heat a couple of tablespoons of sunflower oil and sprinkle in 2tsp of paprika and 1-2tsp chilli powder (depending on how hot you like it). Heat until sizzling and tumble in 500g mixed seeds or nuts. The mixture is down to you, I like lots of pumpkin seeds, but chopped cashews would also be delicious. Stir really well and make sure the seeds are coated in the bright red oil. Roast in a large tray for 20-30mins until brown.
Pour back into the saucepan and drizzle over 2-3tbsp soy sauce. Heat and stir frantically until the soy is absorbed, giving the seeds and salty coating. Allow to cool and store in an airtight jar.
Tags: seeds
YOU MIGHT ALSO LIKE...