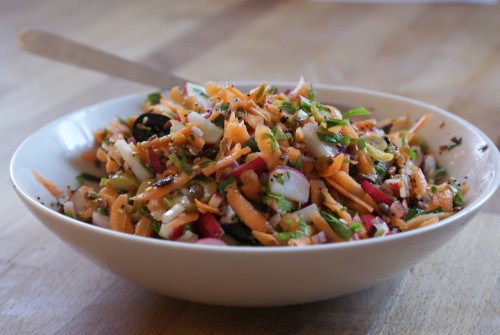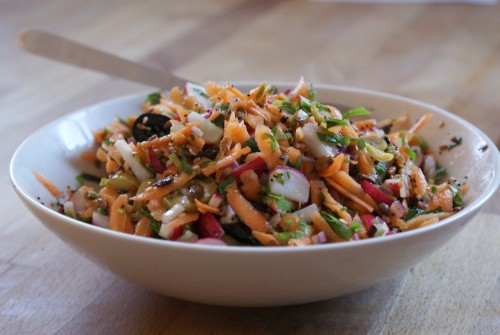 This came about by using up the dregs leftover in the fridge (as is so often the case). We're not massive fans of radish in our house and we always seem to have more carrot than we know what to do with. As I've said before, I will happily eat grated carrot with nothing more than a drizzle of sharp mustardy dressing, but Pete has started to complain so I threw in a few extras to jazz it up.
Bright, colourful and crunchy, with added saltiness from proper deli olives and tang from mustard dressing. It will happily and indeed should sit around for an hour or two for the flavours to meld and to take some of the edge of the red onion. We eat ours with little cubes of crispy roasted potatoes and a piece of fried salmon – simple summer eating. Also, everyone knows how good carrot and hummus sandwiches are – imagine how good leftovers of this are on hummus sandwiches.

Ingredients
Makes a large salad – enough for 4 people as a side salad
4 medium carrots, peeled and grated coarsely
1 small bunch of radish
1 small bunch of parsley, chopped
1 clove garlic, finely chopped
1/2 red onion, finely chopped
small handful olives, sliced
generous drizzle mustard dressing
handful of seedy sprinkle
This is essentially an assemble job, mix the ingredients together, drizzle with dressing and leave until you're ready to eat – at which point I would stir it a little to freshen it up or decant into a clean bowl (I'm a big fan of decanting into clean bowls). All I will mention is how I cut up the radishes. Clean, top and tail and cut into 4 slices lenghtways; while still holding them together, cut into 4 slices in a perpendicular direction so that you end up with radish batons – a little labour intensive but it works much better with the grated carrot.
YOU MIGHT ALSO LIKE...