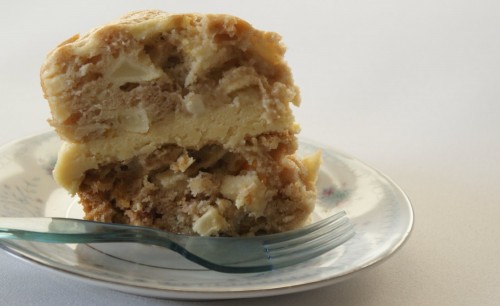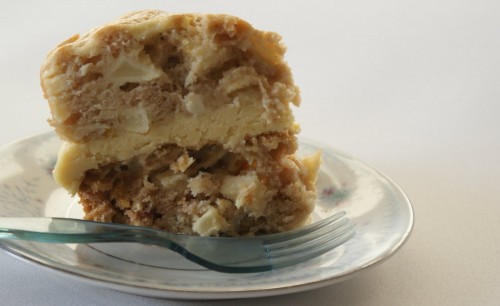 I've been lusting after the Ottolenghi Cookbook
for a while and I finally got it for my birthday a few weeks ago. A weekend lusting after the cakes and beautiful salads ensued as I littered it with post-it notes for 'must try' recipes.
For those of you not familiar with the London restaurant, this book is all about big and beautiful salads, using ingredients in new and delicious ways as well as
the most fabulous
cakes and pastries – the best of both worlds then…(see
this post
for 101 Cookbook's take on Ottolenghi and another recipe). Yotam Ottolenghi also has a
regular column in the Guardian
on Saturday – Yotam Ottolenghi's inventive, modern vegetarian recipes.
Everyone who has this book has recommended the apple and olive oil cake so it was top of my to-do list. A light and airy cake packed full of apples, lemon zest and olive oil. The olive oil is not overpowering at all but adds a wonderful complex flavour. And, it just keeps getting better, the whole thing is sandwiched together with luscious maple syrup icing (I used golden syrup) – a delicious butterscotch take on the classic cream cheese icing.
This cake was devoured in a matter of days to a chorus of quiet 'mmms…' Need I say more? Make this cake and make it soon.

Ingredients
280g plain flour
1/2 tsp ground cinnamon
1/4 tsp salt
1/2 tsp salt
1/2 tsp baking powder
1 1/4tsp bicarbonate of soda
120ml olive oil
160g caster sugar
2tsp vanilla extract
2 eggs
3 Bramley apples, peeled cored and chopped into 1cm dice
grated zest of 1 lemon
2 egg whites
Icing
100g unsalted butter, at room temperature
100g light muscavado sugar
85ml maple syrup (or golden syrup)
220g cream cheese, at room temperature
Preheat the oven to 170C
Sift the flour, cinnamon, salt, baking powder and bicarbonate of soda into a bowl.
Meanwhile, whisk the olive oil, vanilla and sugar (preferably with an electric whisk) together until voluminous and smooth. Next whisk in the eggs, one at a time.
Stir in the apples and lemon zest and then the flour.
Whisk the egg whites until stiff and fold carefully into the cake batter.
Grease and line two sandwich tins and bake for 45mins until a cake batter comes out clean.
Once cooked, allow the cakes to cool completely before icing.
To make the icing, beat together the butter and maple syrup and sugar until light and airy. Beat in the cream cheese until totally smooth.
Use the icing to the sandwich the cakes and smooth the remaining on top.
Tags: apple
YOU MIGHT ALSO LIKE...