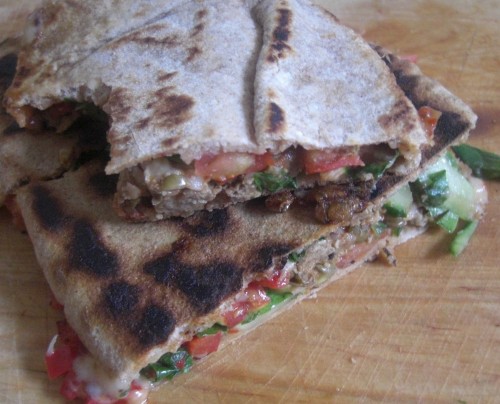 Mmm.. the perfect snack and a great way to use up any veg lurking in the bottom of the fridge. Feel free to experiment with this recipe, its all about using up what you have. I didn't have tortillas so used pitta instead and it worked perfectly well.
Ingredients
Serves 4
Black Bean Paste
1 can black beans (borlotti beans will do), drained
1 tsp ground coriander
½ tsp ground cumin
1 bunch coriander, chopped, stalks and all
Juice of 1 lime
2 cloves garlic, finely chopped
½ tsp Maldon sea salt
8 tortillas
some spring onions, sliced
4 tomatoes, chopped
2 avocados, diced
125g cheddar, grated
2 handfuls spinach, finely sliced
1 small tub soured cream
Some jalapeño chillies in vinegar or sliced red chilli as garnish
To make the black bean paste, either blend or mash all the ingredients together. Preheat a griddle pan. To assemble the quesadilla, spread 2tbsp of the bean mixture on the tortilla, makingsure you leave a border, add a tbsp of the soured cream and spread also. Next sprinkle over some cheese, tomato, spring onion, avocado and spinach. Finally topping with the chilli. Fold the tortilla in half and carefully place onto the griddle pan, cook for a few mins on each time, until the cheese is bubbling and the filling is warmed through, cut into slices and eat with plenty of napkins!
YOU MIGHT ALSO LIKE...