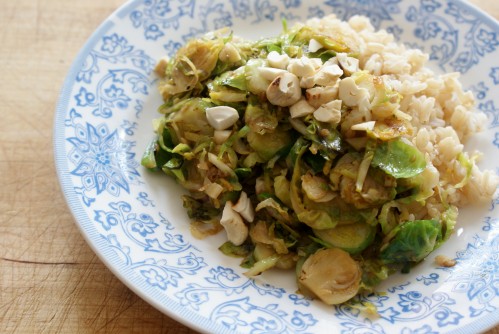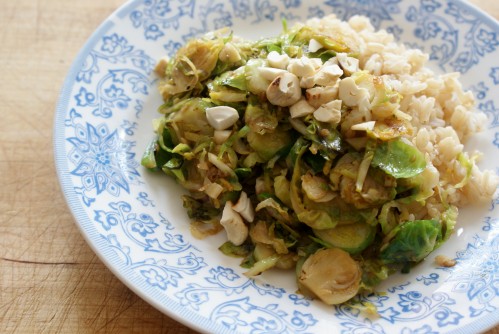 This is the kind of thing I make for dinner when I'm home alone. It's quick, healthy and most importantly, tasty. I would eat this with brown rice and a poached egg on top, but you could have it with salmon instead for an extra dose of healthy oils. And while I know that brown rice isn't exactly quick food, I try to start cooking it as soon as I start thinking about dinner, then by the time I've finished faffing and chopping, it's good to go.
I've used Brussels sprouts, and the key here is to shred them very finely, but you can use any other cabbage, or kale instead. I love cabbages at this time of year (in pasta, colcannon and coleslaws) – they're so cheap and seem to keep indefinitely in the fridge.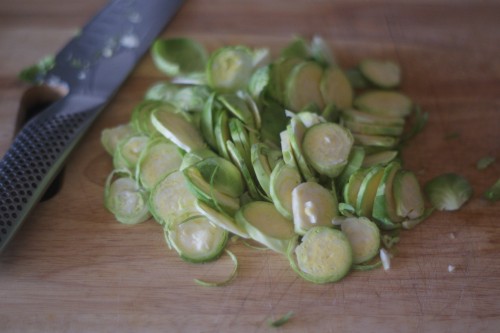 serves 1
1 tbsp cashew nuts
1 tbsp sunflower oil
10 sprouts, outer leaves removed, thinly sliced
1 clove garlic, finely chopped
1 tbsp oyster sauce
Heat a wok until hot and toast the cashew nuts, shaking the wok frequently, for a few minutes or until the nuts are golden. Tip onto a chopping board and chop roughly.
Heat the oil in the wok until hot, then add the sprouts and stir-fry for a couple of minutes. Add a splash of water, cover with a lid and steam the sprouts for a few minutes, or until just tender.
Add the garlic and stir-fry for another minute, then stir in the oyster sauce.
Serve the sprouts with the cashew nuts sprinkled on top.
Tags: cabbage
YOU MIGHT ALSO LIKE...