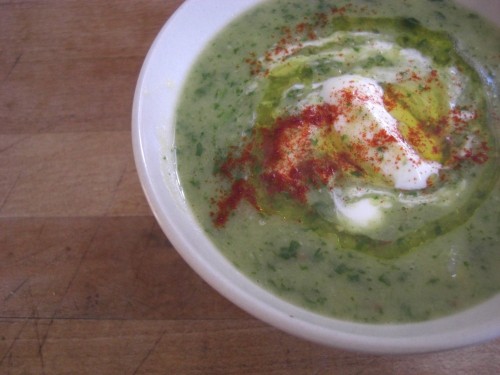 I'm a big fan of pulses. They're cheap as chips and count as one of your 5-a-day, hurray! Recently, as our unspectacular summer grinds to an end, I've been hankering after soup and when I think of soup, split pea soup is one of the first to spring to mind.
The only version I've ever made is from the fabulous Cranks
, split pea soup flavoured with some aromatic cumin, with fried mushrooms and spinach stirred in at the end, dolloped with limey yoghurt. Make this once and you will see why I've never veered from it before.
Whilst contemplating the soup however, I did a little recipe browsing and have since found that you can do pretty much whatever you fancy to the soup, here's a very basic recipe, and one with olives and raita added on top, I've bookmarked this version for next time.
In the end I started out sticking to the Cranks version, but decided to blend in the spinach at the end, do away with the mushrooms and lime and just add a spoon of yoghurt, some peppery olive oil and some paprika for smoky depth.
As with most soups, this is perfect for making in a big old pot and freezing leftovers. I made half the below amount and it was all gone disappointingly fast. Being at home all weekend, means there are plenty of opportunities to heat up a little bowl for a snack…
Ingredients
Makes 6-8 portions
500g split peas (yellow or green depending on your colour preference)
1 onion, chopped
2 cloves garlic, chopped
1 red chilli, chopped
1tbsp cumin seeds (ground cumin will do)
1.5litres hot vegetable stock
100g spinach
250g yoghurt
smoked paprika to serve
Pour the split peas into a large bowl, cover with twice the volume of water and leave overnight to soak.
The next day… Fry the onions with a little in large saucepan over a medium heat. Once softened, add the chilli, garlic and cumin, sizzle for a few minutes more.
Drian the split peas and rinse, tip them into the pan with the onions and stir well to coat in the aromatic oil.
Pour in the hot vegetable stock and allow it to boil vigorously for about 10mins, scraping off the frothy scum that rises to the surface.
Turn the heat down and simmer for about 30mins until the peas collapse.
Add the spinach to the pan, cover and let it wilt in the pan.
Once the spinach is wilted, use a hand blender to blend the soup until smooth, be careful not to overblend, you still want flecks of green against the yellow background. Taste and add salt and pepper to taste.
Serve with a big dollop of yoghurt, a drizzle of oil and a sprinkling of paprika.
YOU MIGHT ALSO LIKE...