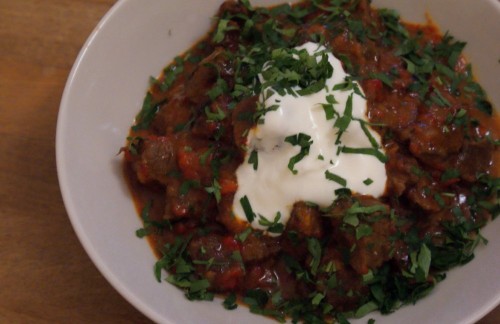 Our vegetable box is delivered on Friday, so my current Saturday morning routine consists of getting up in time for Saturday Kitchen, sitting amidst my various cookbooks and looking for new recipes to try with my muddy bounty. One eye on James Martin, one on the books.
My routine was somewhat upset this week as I awoke not only nursing a hangover, but to the chaos left behind by several of us drinking too much fizzy wine and eating lots of good food (fajitas with bean chilli, cheese and lashings of gaucamole and soured cream; followed by key lime pie).
The upshot of this is that I was somewhat randomnly inspired by a sad looking bowl of leftover soured cream. I decided to try goulash, remembering a delicious looking version Jamie Oliver cooked on Jamie at Home (part of our Sunday night aspirational viewing on More 4 along with River Cottage). A rich stew of slow cooked pork and peppers served with creme fraiche.
In the end, my version was completely different, I looked around for inspiration and came up with a really simple version that doesn't use chopped tomatoes but is flavoured with paprika and smoky roasted peppers. This is best with cheaper cuts of braising beef and left to cook long and slow, the peppers almost melt into the sauce to give a rich stew . Given the opportunity, I would cook this day before and let the flavours develop. Even so, cooked on the night this absolutely delivious, full of flavour and meltingly tender. We eat ours with thick ribbons of pasta, a dollop of sour cream and lots of parsley, but mash would be divine too.
Ingredients
Serves 4
1kg braising beef, cut into chunks
2 tbsp plain flour
1 tbsp sunflower oil
25g butter
1 onion, finely chopped
1 tbsp smoked paprika
1 jar roasted red peppers (approx 300g), or 4 peppers roasted and skinned
200ml beef or vegetable stock
1 small (140ml) tub soured cream
Chopped flat leaf parsley to serve
Season the meat and sprinkle over the flour to coat well.
Heat the sunflower oil in a large frying pan. When hot, fry the beef in batches until sealed and beginning to brown. Remove from the pan and set aside.
Add the butter to the pan. Once melted, add the onion and fry for a few mins until softened.
Add the beef back to the pan and sprinkle over the paprika, stir well so that the beef is well coated.
Slice the roasted peppers into long thin strips and add to the pan as well.
Pour in the stock, bring to the boil and simmer for at least an hour until the beef is tender and the sauce has thickened.
Before serving, stir in half the soured cream, reserving the rest to dollop on top with a liberal sprinkling of parsley.
YOU MIGHT ALSO LIKE...