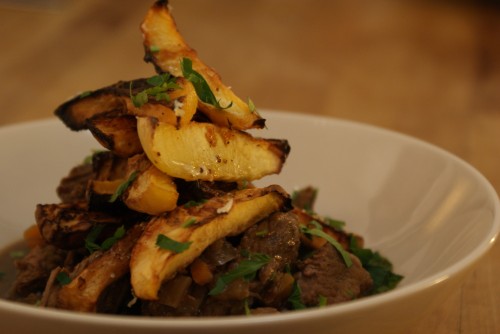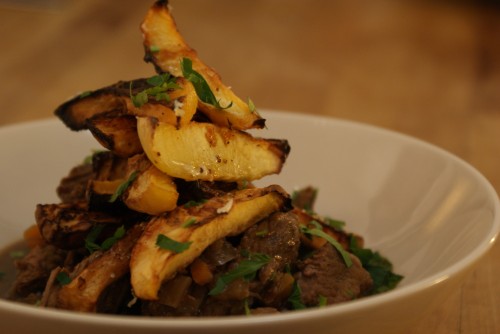 Another gem utilising my slow cooker. Inspired by this article by Nigel Slater we used cheap chunks of braising steak slow cooked with mushrooms, plenty of sweet onions and carrots and Guinness, to counteract the slight bitterness of the Guinness, I added a couple of tablespoons of prune jam that I had in the fridge, any other fruit jelly or sauce would work well, such as apple sauce, to give a rich and round flavoured stew.
Of course something this warming, with copious amounts of gravy cries out for a mash of some kind. As it is so rich, I'm thinking some kind of root mash would work well or colcannon. We had swede chips with ours, sweet and crispy they worked perfectly with the stew.
Ingredients
Serves 4
750kg stewing beef, cut into chunks
5tbsp flour
2 onions, finely chopped
2 carrots, finely chopped
2 cloves garlics, finely sliced
250g mushrooms, sliced in half
1 sprig thyme
1 can Guinness
150ml water
2tbsp redcurrant jelly or apple sauce
1 small bunch chopped parsley to serve
Heat a large casserole on the hob.
Meanwhile sprinkle the flour over the beef with plenty of seasoning, turn the beef and make sure its well covered.
Add a little oil to the pan and fry the beef in batches until brown all over. Remove and set aside.
Add a little more oil and fry the onions and carrots over a low heat for about 10mins. Add a splash of water to the pan and scrape the bottom to lift of any sediment.
Add the thyme, bay leaves, mushrooms and beef to the casserole with the Guinness and water.
Cover and cook in the oven at 170C for 2 hours until the beef in meltingly soft.
Stir in the apple sauce and season to taste.
Serve sprinkled with parsley.
Tags: beef, mushroom, potato, swede
YOU MIGHT ALSO LIKE...