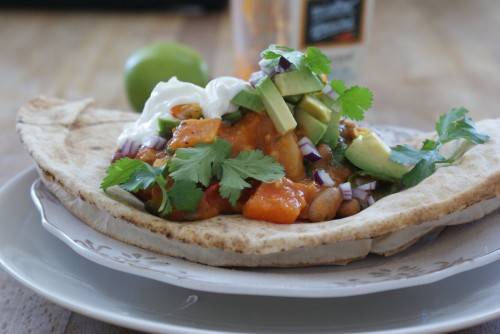 I can't remember the last time I bought a ready meal. Seriously. I'd rather eat a boiled egg and soldiers or beans on toast or a bowl of ice cream for my tea. Not only are they expensive, but they are generally pretty unappetising affairs.
But now, Innocent have gone and brought out their veg pots, I'm not sure where they're aimed exactly, but I'm thinking a healthy alternative to crappy shop bought sandwiches, pumped full of salt and fat. One of these little pots is 3 portions of veg, and a smoothie is 2 portions of fruit; so eat both and you get your 5-a-day. Clever, huh?
Anyway, I digress. The point of this post is that my firend who works at Innocent got me some for cheap and I set about thinking of ideas to tart one up for dinner. Of course, I would happily heat one up and eat it on it's own, straight from the pot, no need for washing up. But, I think with a little effort, you could use one as a base for a really taste meal. All the hard work making it tasty and cramming it with vegetables has been done for you; all you need to do is spruce it up and think about adding some protein (they're all vegetarian). See what other people have come up with here.
First up is the Sweet Potato Chilli – 'a spicy hearty stew of sweet potatoes, red peppers and smoky paprika'. I used it as a base for a mexican-esque wrap. Take one warm tortilla, dollop on some warm chilli and top with diced avocado, red onion, a splodge of yoghurt and some fresh coriander. You could stop here, wrap it up and enjoy (with lots of napkins) or go further and grate on some cheese and top with a fried egg, or some chorizo or chicken or steak…
Tags: avocado, cheese, innocent, mexican, yoghurt
YOU MIGHT ALSO LIKE...