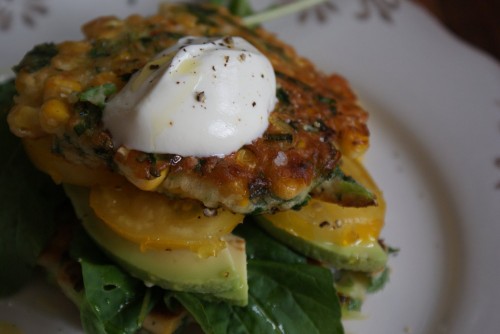 Can you spot the pattern here? At certain times of the year, we seem to be inundated with the vegetable du jour, so after I've made my usual recipe, I'm forced to consult my cookery shelf for inspiration. Don't get me wrong, this is why I love my veg box, it forces me to constantly try new recipes.
At the moment, it's sweetcorn and tomatoes and rocket from our garden (well, plant pots). Last weeks salsa was definitely a success, but I wanted something new. I found this recipe in Bill's Sydney Food
by Bill Granger. While he is almost unbearably smug on TV, I love the sunny, bright styling of his book and the simplicity of his recipes.
These are fairly simple to make and are bound to impress, sweet and crispy sweetcorn in a batter full of coriander and chilli. I had them for a simple lunch with avocado, rocket and tomatoes and a the obligatory dollop of yoghurt. But, I have a sneaky feeling that they'd work perfectly with a fried egg and beans for brunch. Bill suggests serving them with roasted tomatoes and bacon. If you're making these for a lots of people, you can cook them in advance and just warm through in the oven.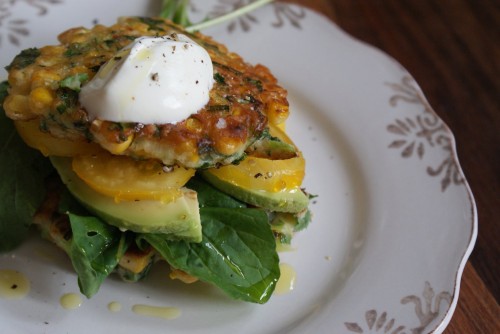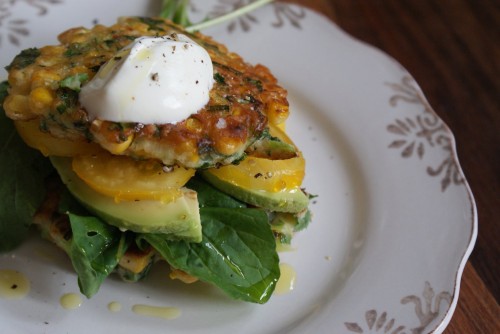 Ingredients
Serves 4
2 corn cobs, kernals removed
1 red chilli, finely chopped
1 small bunch coriander, chopped
1 small bunch spring onions, sliced
250g plain flour
1 tsp baking powder
1/2tsp paprika
1tbsp sugar
2 eggs
250ml milk
Sift the flour and baking powder into a bowl and mix with the paprika. Whisk in the egg and milk with plenty of salt and pepper until you have a smooth batter.
Mix the sweetcorn, chilli, coriander and spring onions in a bowl and stir in the batter until combined.
Heat a large frying with a large glug of oil. Once hot, place a tablespoon of mixture into the pan and press on it lightly to spread it out into a fritter.
Cook for a few mins on both sides until golden and remove to a plate lined with kitchen paper while you cook the rest of the fritters.
Tags: avocado, rocket, sweetcorn, tomato
YOU MIGHT ALSO LIKE...