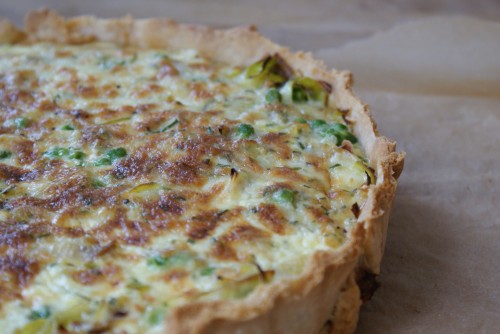 So, I've been a bit lax with the blogging, christmas seems to have come even earlier this year and time is just slipping away from me!
I have of course, still been cooking, dutifully storing up pictures to share… I've also really gotten into cooking lots at the weekend so there's always something tasty and filling at the end of the day. I made this tart in the same vein and it worked perfectly – leeks sweated down slowly and sweetly with peas thrown in, all encased in a cheesy, eggy custard and baked in flaky pastry ( although I did cheat and buy it from a shop!). Perfect for lunchboxes, or a little slither as a snack, not that is lasts that long…
Most vegetables work well in this quiche-like set up, try this Swiss Chard and Onion Tart, or Potato, onion and Goat's cheese. Combinations on my list to try are:
Bacon, cheddar and tomatoes
Smoked mackerel and dill
Roast tomato, pesto and mozzarella
Broad bean and goats cheese
Asparagus, Lemon and Ricotta
Broccoli and blue cheese
Ingredients
300g shortcrust pastry
2-3 large leeks, finely sliced
50g butter
200g frozen peas (or fresh peas when in season)
3 eggs
400ml cream
175g cheddar, grated
1tsp dijon musard
Line a 24cm tart or flan tin with the pastry and bake blind
Boil a kettle and cover the peas in boiling water. Leave to sit for 5mins, then drain.
Meanwhile fry the leeks gently in the butter for 5mins until completely soft and pour in the defrosted peas, seasoning well.
Whisk the eggs, cream and mustard together with plenty of seasoning.
Once the pastry is cooked, tip the pea and leek mixture in and spread out across the whole pastry base, sprinkle over the cheese and pour over the eggy custard.
Bake at 190C 25 mins until the top is golden and firm to the touch.
YOU MIGHT ALSO LIKE...