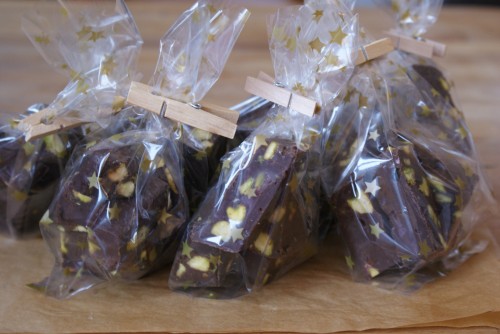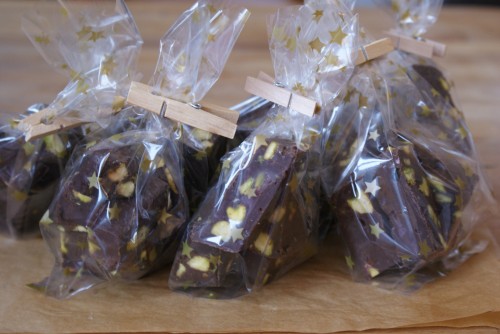 I normally give people food related presents at Christmas, partly because they love it, and partly (mostly) because its cheap! In the same vein, this year I decided to branch out from my usual brownies and try something different. Something different being this insanely easy fudge recipe from Nigella Express
,, of course, its not really fudge in the strictest sense of the word, but it is delicious and has that soft 'fudgy' texture.
…I was drawn to it because I know any recipe of Nigella's will be delicious, but also because she says you can prepare it in advance and then stash it in the freezer. Hurray! No more mammoth baking sessions on Christmas Eve! Although I'm sure my family won't let me get away with it that and I'll be baking brownies too…
I think 'easy' is a bit of an understatment, simply melt the chocolate with condensed milk, stir in chopped pistachios and leave to set, cutting it into squares the next day. I made one batch with pistachios as per the recipe and the next with hazelnuts, both delicious.
I got the bags on Cakes Cookies and Craft Shop – an amazing website for anyone who likes baking.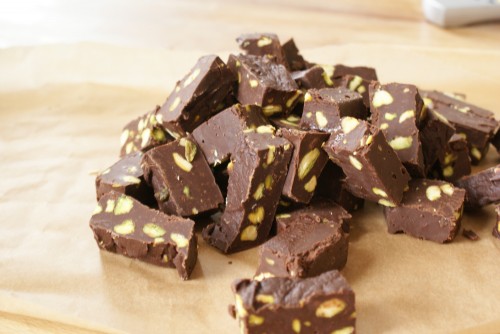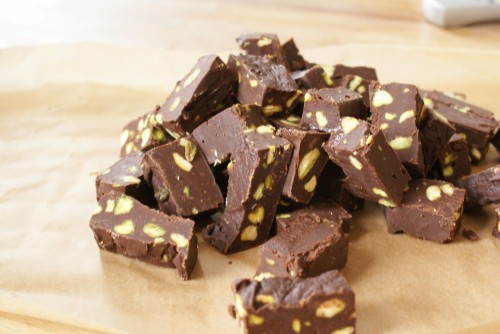 Taken From Nigella Express
Ingredients
350g dark chocolate, chopped
1 x 397g can condensed milk
30g butter
pinch salt
150g chopped pistachios or hazelnuts
Empty the condensed milk into a saucepan and tip in the chopped chocolate with the butter.
Heat gently, stirring slowly until completely melted.
Add the salt and chopped pistachios and mix well.
Pour into a 23cm square tin (I used a Silicon
one) and spread until a smooth layer.
Leave to cool and refridgerate overnight.
Cut into small pieces and enjoy!
YOU MIGHT ALSO LIKE...