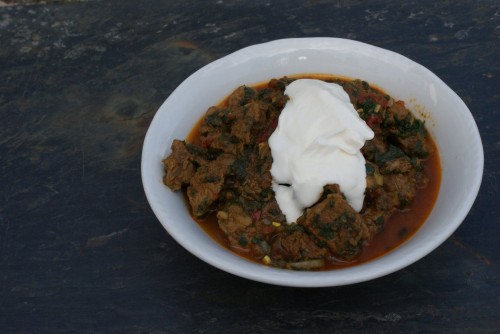 So, first up apologies for the absence. I've been cooking of course and I have a whole raft of recipes ready to write about, i guess life just gets in the way sometimes…
Next up for OxNosh is a booklet of recipes for students and we spent the bank holiday weekend developing recipes. The idea is that they're easy, obviously but we've also kept the ingredient list as short as possible whilst delivering big flavours so that it's likey to turn out edible and hopefully tasty if even the most inexperienced cook tries it.
This curry was one of our triumphs, using cheaper cuts of lamb designed for long and slow cooking. Leave this to do its thing puttering away slowly on the hob so that you're left with a rich dark curry, meltingly tender. Extra brownie points for sneaking in some vegetables too, bearing our audience in mind, we also tried this with frozen spinach. I was initially unconvinced, but it worked and keeps it green colour well.
I would also make loads of this and freeze it for a treat at a later date. If you're making it for lots of people like we did, try doing a daal to go alongside and make the meat go further. Eat with fluffy white rice and yoghurt.
Ingredients
Serves 4
2tbsp sunflower oil
750g lamb shoulder or neck fillet cut into cubes
1tbsp flour
2 medium onions, finely chopped
3 garlic gloves, finely chopped
2tsp ground coriander
2tsp ground cumin
2tbsp tomato puree
1 tin chopped tomatoes
200g frozen spinach
Put the lamb into a bowl, sprinkle over the flour and season well.Heat a large casserole with the sunflower oil, add the lamb to the pan in small batches, allowing it brown it on all sides before removing it.
Once the lamb is cooked, add the onions and garlic to the pan and cook on a low heat until browned.
Add the spices and lamb to the pan and cook for a few mins, stirring all the time.Add the tomato puree and chopped tomatoes, bring to the boil and simmer for 45mins until the lamb is tender.
Before you want to serve the curry, stir in the frozen spinach and cook for another 5minutes.
YOU MIGHT ALSO LIKE...