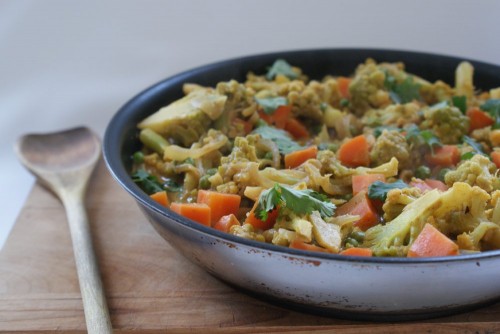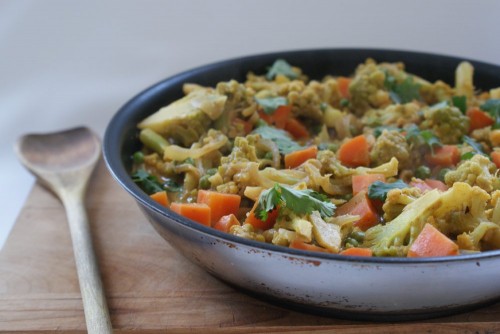 I spent the weekend visiting the family in Manchester. While I was obviously required to make brownies, we did most of our eating in some delicious restaurants. I came home yesterday to a rather sad looking romanseco cauliflower and was itching to get back into the kitchen. My knee-jerk reaction is generally to douse it in cheese sauce, instead I thought I'd try to re-create a very successful curry from last week.
Loosely inspired by the legendary Leon Gobi – this is rich in coconut milk and sweet from ground almonds, feel free to enhance this further with raisins; but I can't stand them in savoury food – especially curry. Of course, you can also use any vegetables you have lying around – I find this a really good way to use up root vegetables, the sweetness works perfectly; or throw in chickpeas, they're delicious in everything. The richness also means it goes particularly well with brown rice – making this an altogether virtuous meal.
Ingredients
Serves 4
1 onion, sliced
2 tbsp sunflower oil
1 chilli
1 2inch piece ginger
5 cloves garlic
2 tsp Madras curry powder
1 tsp turmeric
about 250g sweet root vegetables cut into chunks e.g. carrots, swede, sweet potato, pumpkin, squash
1 cauliflower, broken into florets
1 x 400ml tin of coconut milk
4 tbsp ground almonds
Juice of ½ a lemon
coriander, roughly chopped
Blend the garlic, ginger and chilli to a paste.
Meanwhile, heat a large frying pan with the oil, add the onions and fry until soft.
Tumble in the vegetables (apart from the peas) and sprinkle over the spices. Stir well.
Pour in the coconut milk, half fill the can again with water and add to the pan.
Bring to the boil and simmer for 15mins.
Add the ground almonds and peas, simmer for a few mins more.
Add the lemon juice and season to taste.
Serve with lots of chopped coriander.
Tags: carrots, cauliflower, curry, peas
YOU MIGHT ALSO LIKE...