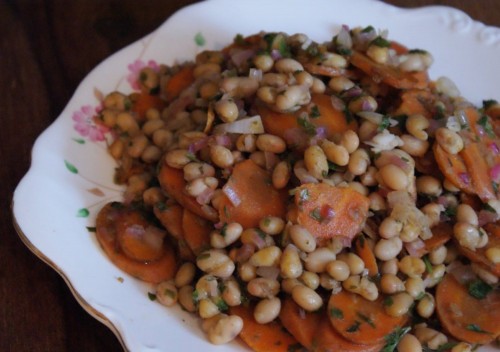 Another 101cookbooks recipe, this one caught my eye as a tasty way to eat carrots (I've been leaning towards cakes recently). I had some friends round for dinner and we eat this with roasted trout and artichokes with almonds, breadcrumbs and mint from Jamie Oliver. Unfortunately, there aren't any pictures but the recipe is here and believe me it was delicious and the carrot salad went perfectly. Just enough bulk to fill you up but light enough that you feel comfortably full.
We eat this at room temperature and I think it definitely needs a good 30mins for the flavours to settle and develop and will no doubt be delicious the day after. What follows is my version, I made a few tweaks to suit what I had at home. Parsley instead of dill and a little ground cumin for warmth.

Ingredients
5 medium carrots
2tbsp olive oil
1tsp ground cumin
1 can borlotti or cannellini beans, drained
1tbsp brown sugar
1 red onion, finely diced
1 small bunch parsley, roughly chopped
juice 1/2 lemon
Wash the carrots well and slice diagonally into coins about 1/2cm thick.
Put in a pan, cover with water, bring to the boil and simmer for 5 mins. Drain.
Heat the oil and cumin in a large frying pan until sizzling. Tumble in the carrots, fry over a high heat for about 5mins until golden.
Add the beans and sugar and fry until beginning to caramelise.
Spoon the mixture into a large bowl and add the rest of the ingredients. Stir well and season – checking if it needs a drizzle more oil or a little more lemon juice.
Tags: carrots
YOU MIGHT ALSO LIKE...