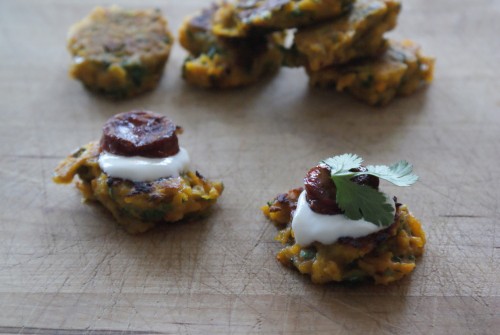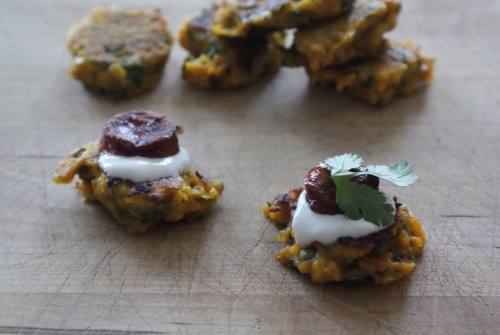 These pancakes were inspired by a recipe on Big Girls, Small Kitchen a recently discovered, much loved blog.
I took their idea, substituted in pumpkin and topped it with a slice of spicy chorizo. My word, they are good. Perfect, mouthful-sized, party food. Especially since you can cook them in advance and warm them up before serving.

Pumpkin pancakes with chorizo and crème fraiche
Makes 24 small pancakes
30g butter
350g pumpkin, peeled and grated (definitely worth getting the food processor out for)
2 egg, beaten
85g plain flour
2 tsp sugar
1 tsp salt
½ tsp ground cumin
small bunch coriander, finely chopped, plus extra to garnish
100g cooking chorizo, sliced
200g crème fraiche
Melt the butter in a frying pan, add the pumpkin and fry for 2-3 minutes, or until softened. Remove from the heat and set aside to cool. (You might to do this in two batches.)
Mix the cooled pumpkin and eggs together in a mixing bowl. Stir in the remaining ingredients, except the crème fraiche.
Heat a generous glug of olive oil in a large frying pan and cook tablespoonsful of batter for one minute on each side. Set aside to drain on kitchen paper. (If you are cooking these in advance, place onto a baking tray and cover with cling film. When you're ready to eat, warm them in a hot oven for 5-10 minutes, or until crisp.)
Meanwhile, fry the chorizo slices for 30 seconds on each side, or until golden-brown.
Arrange the pancakes on a large, flat plate or chopping board. Top with a little crème fraiche then a slice of chorizo. Scatter with a few coriander leaves.
Tags: pumpkin
YOU MIGHT ALSO LIKE...