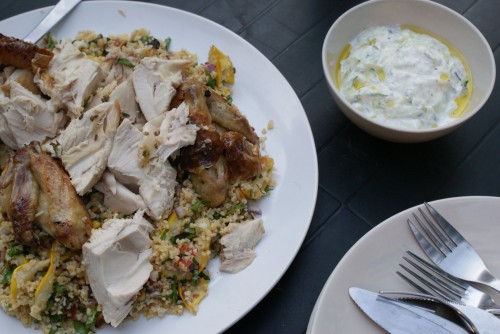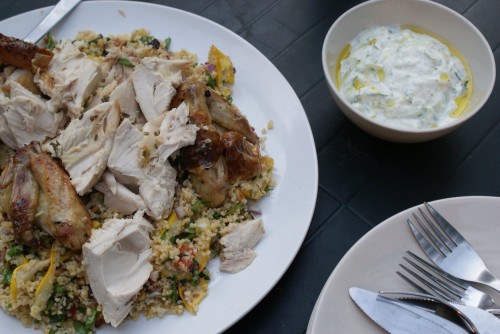 A summery take on a simple roast chicken – using sage from our garden, lemon zest, garlic and butter as flavour. Eaten with this courgette and bulghar wheat salad, an extra smattering of pine nuts and some cooling, garlicky tzatiki.

To make the taztiki, I grated a cucumber, salted it and left it to drain for 15-30mins. Squeeze out the excess water (there should be a lot), tip into a bowl and mix with greek yoghurt, finely chopped garlic and a little lemon juice. Finish with black pepper and a drizzle of oil.
This is perfect summer eating, there's no pressure to serve it piping hot, indeed it's better lukewarm and eaten casually outside. In fact, you could joint the chicken and BBQ it instead, swapping the butter for olive oil. I'm a fan of uncomplicated BBQs – making one great piece of meat the star so you don't spend hours cooking burgers and sausages. We're recently had success with a huge leg of lamb, marinaded overnight, cooked briefly in the oven and then finished on the BBQ. Sliced thinly and eaten in pittas with tazatiki and tomato salsa – that's my kind of BBQ.
Tags: bulghar wheat, chicken, courgette, couscous, cucumber, salads, yoghurt
YOU MIGHT ALSO LIKE...