On Sunday, I broke out my growing collection of china and hosted an afternoon tea for The Breakfast Club. Lots of lovely Brixton people came and Kat (my side-kick) and I were even able to sit down and enjoy a few glasses of fizz and a scone.
Everyone kept asking for the recipes and whether macaroons are difficult to make (yes!), so I thought you might be interested too…
The savoury
I don't know about you, but whenever I go for afternoon tea, I always find the savoury/sweet balance too out of synch. Often all the savoury amounts to is a few stale sandwiches.
We decided to make lovely sandwiches on delicious homemade bread. Egg mayonnaise (see my recipe here) on oat soda bread from 101cookbooks and smoked mackerel with dill and caper cream cheese on soft, white bread. (I can't emphasise enough how good this soda bread is and apart from blending some oats, to make oat flour, it takes no time at all to cook.)
We also made some pumpkin pancakes with chorizo and crème fraîche, the perfect bite-sized canapé. I have a feeling I could have made twice as many and they still would have gone in about 5 minutes. They're inspired by this recipe, but my version will follow soon.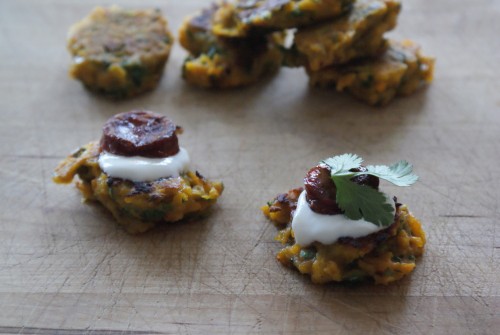 The sweet
No afternoon tea is complete without scones, clotted cream and good jam. The secret to really good scones is that they must be warm from the oven. There's no preparing in advance here. Although, I did blitz the butter, flour and raising agents in the morning, tipping them into a bowl for later. Then all you need to do is add your milk, cut them out and bake. I used Nigella's recipe from How To Be A Domestic Goddess
.
I can't imagine hosting a Breakfast Club without macaroons these days. We had pistachio macaroons (recipe here) and grapefruit ones filled with homemade grapefruit curd (recipe coming soon).
A proper sandwich cake covered in icing is always a good thing at afternoon tea, especially when you have a nice cake stand to show it off – we had a coconut and lime cake.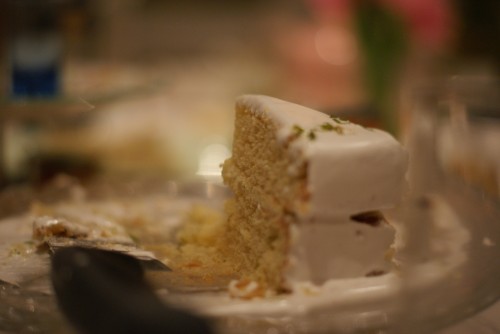 And finally, praline Danish pastries. Who would have thought that even if you knew how much butter and sugar goes into these beauties, that you would still have to stop yourself from eating the whole lot? (Recipe coming soon.)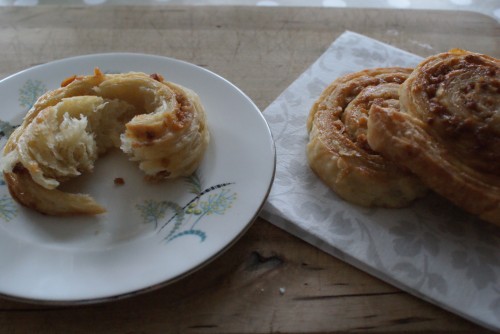 ps: I always need help at The Breakfast Club, if you fancy giving me a hand, drop me an email at Rachel [at] whatrachelate [dot] com
Tags: bread, coconut, egg, mackerel, pastry, pistachio, pumpkin
YOU MIGHT ALSO LIKE...